I've got something super cool to share with you guys today!  Recently I was given the opportunity to try out some of Learning Resources' products and I am so excited to show you the first…Talk Bar!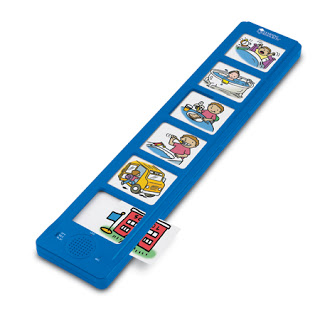 Talk Bar is a 6 button, recordable device.   Each button can hold up to 10 seconds of audio.  It comes with 18 blank cards that easily slide in and out.  The Talk Bar is super easy to use…there is a switch at the bottom to set to record, play, or off. It is also wall mountable, that wouldn't really serve my purposes, but it could for a different classroom.  I don't know about you, but I can think of a 486 ways to use this!  You can definitely utilize as for AAC but you can also use for other therapy activities….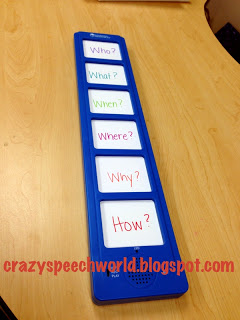 On first glance, I knew I could use if for answering/asking questions so I put the WH (plus 'how') question words on each of the buttons.  I used with one group after we read a story, and they each recorded a sentence about it answering their question type.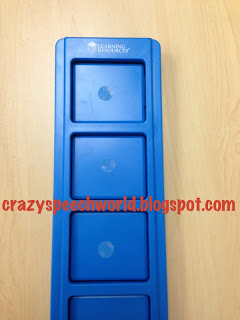 Something else I did was attach velcro circles to the buttons.  This works for me because I have tons of pictures for schedules/choice boards/etc with velcro already attached to the back, so now I can use them with this!  I used the really thin velcro so that I can still slide the cards over it.  You could just create new slide in cards for visuals, but I like the idea of being able to use things I already have.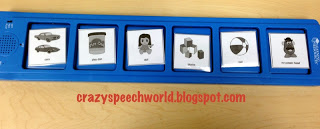 For this example, I used a set of toy pictures from a board I made with Custom Boards and attached to the velcro.  I recorded the name of each picture, then during my session, the student can make his activity choice. You can also choose to not use all of the buttons, if your students need less choices.
Here are some other ideas I had for ways to use the Talk Bar:
Visual Schedule
Requesting 
Vocabulary
Sequencing
Sentence Structure/Expansion
Overall, the Talk Bar is super easy to use and can be adapted for many different types of activities and students.   It is available from Learning Resources for $59.99…but they also want to give one to a reader!  Enter below to win via Rafflecopter!
Also, make sure you check out Learning Resources on Pinterest!
a Rafflecopter giveaway
Learning Resources provided one free Talk Bar for me to review and one for the giveaway winner.  No other compensation was provided.  Opinions are all mine.