I'm so excited to bring you another great product from Learning Resources!  This time we have the MeCorder…check it out…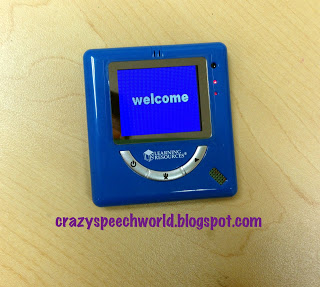 The MeCorder is a mini video recorder that holds up to 30 seconds of video, which you can download to your computer to save and share.  As you can see it is small, fits right in the palm of my hand…which makes it easy to handle for little hands 🙂  There are three buttons on the front face to power on/off, record, and playback.  There are no batteries (yay!), you just plug it into your computer with the included USB cord to charge/upload.  It also has a magnetic back.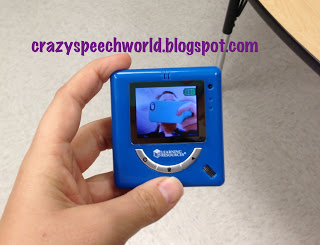 When you record, you can see yourself (or me taking a picture of myself) and once a video is recorded, there is a blue LED light that flashes indicating there is a new video.  The video stays put until you record over it.
So far, I have used this with my articulation kiddos…they really liked using it!  For one of my older students, he did a monologue (he's into drama) and then watched the playback.  We had a great discussion on his articulation and he was able to judge his accuracy!  It was an awesome activity for him.  For a couple of my younger students, I let them do this at the end of a session and we saved it to the computer.  I plan to use it as progress monitoring as they move through levels with their target phonemes.  Every kid loves watching themselves!  I could also see using it as a warm up activity for an artic group.
You could also use for
following directions
center instructions (if you do rotations)
fluency/voice practice 
sharing progress with teachers/parents
social cuing
carryover practice of ANY skill
this list could go on forever!
The draw back…only 30 seconds of video and you have to dump to your computer to save any video…this means if you are working with a group, you would have to connect to your computer to download each video after each kid.
The MeCorder is available from Learning Resources for $59.99, but they are super awesome and want to give one to another reader!  Enter via the Rafflecopter below and good luck!
a Rafflecopter giveaway
Learning Resources provided me with one MeCorder to review and one to giveaway.  No other compensation was provided and all opinions in this review are mine.
Make sure you visit Learning Resources on Pinterest and YouTube!