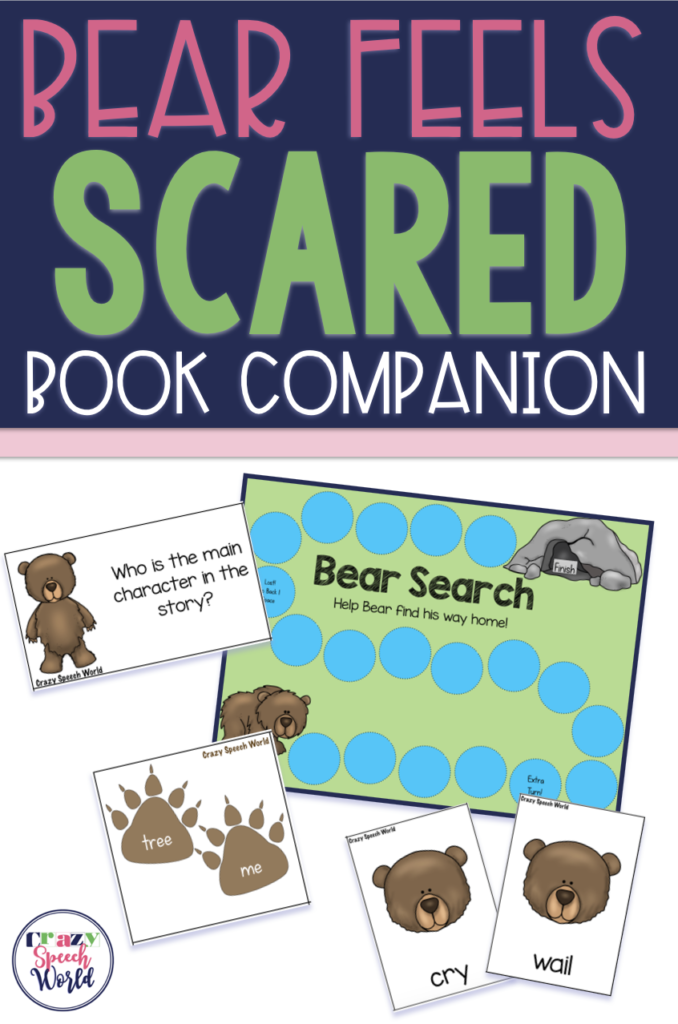 Bear Feels Scared by Karma Wilson and Jane Chapman is another great book for therapy that I love!  It is based on the same characters from Bear Stays Up for Christmas, which I did last month.  I'm hoping that you guys will love this book as much as that one!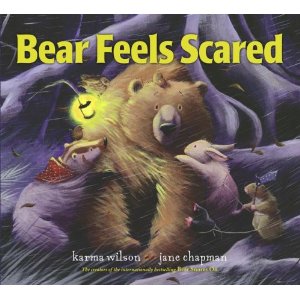 This story is about how Bear gets lost in the woods during a storm and his woodland friends come to find him.  I find that it is a great story to talk about feelings, especially being scared and what makes you feel safe.  The illustrations are awesome and my kids love these characters.  Not to mention, there is really awesome vocabulary in this story and the story rhymes.
Here is a glimpse of the activities I created!  I included lots of different kind of activities that you can use for a variety of targets and groups:
Rhyming pairs…this is similar to what I used for the first Bear download.  I used the rhyming pairs from the story and their are 24 cards, each with 2 words.  There are also foils included to work on discrimination of rhyming pairs.  You can have students listen and decide if the words rhyme, or they can read the words themselves.  Students can also be challenged to think of another word that rhymes with the words on the card.
Vocabulary cards, which target 8 of the Tier 2 vocabulary words from the story.  I made them into synonym pairs to work on learning the words, then you can play matching, go fish, or memory.
12 comprehension cards to go with the story!
Character cards with each of the 9 animals from the story.
Describing mat… have students pick a character to put in the middle of their organizer and write adjectives to describe the character!
Venn Diagram to compare/contrast characters, or this story to another story you have read about bears.
A worksheet to target making connections about emotions.  Students will write/draw picture of what makes them feel scared and what makes them feel safe.
A story map to target students' identification of story characters, setting, problem, and solution.
Articulation word lists for /s, r, l/ with words from the story to target speech goals.
Open ended game board that you can use with any of the included cards or with the word lists.
I hope you like these activities!  You can find them in my TPT store!