Calling all middle school and high school SLPs!!!  I've got a great app review for you guys from Mobile Education Store!  This one is simple, to the point, and awesome…as usual!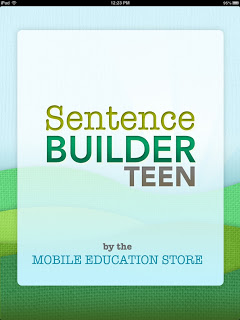 Sentence Builder Teen is designed to engage your teenage students and target building grammatically correct sentences.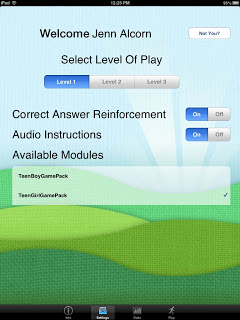 The menu page is where you will select your options for the student.  There are 3 levels of play and two modules available, Teen Boy or Teen Girl.  You can also toggle on/off audio instructions and reinforcement.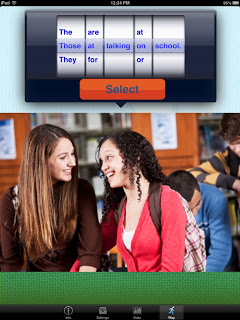 When you start to play, the student is give a picture and the sentence wheel at the top.  The objective is to create the correct sentence about the picture shown.  For Level 1, the verbs and modifiers are being targeted, and students are given 2-3 choices to make a selection from.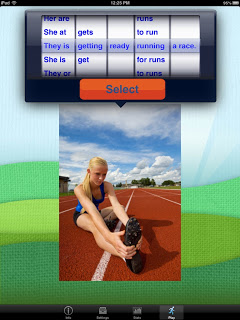 For Level 2, the student must choose the correct verbs, adjectives, and modifiers from 2-5 choices.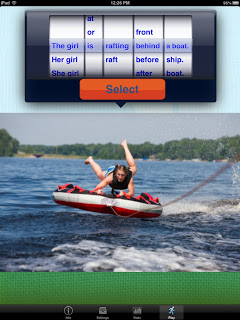 For Level 3, the student will choose the correct modifiers, verbs, and adjectives, but now there are 5 options to choose from.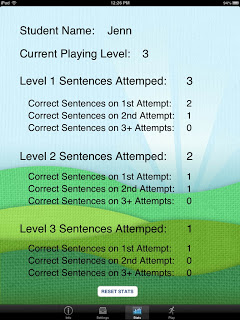 You can always access the students stats from the home page.  This is great for tracking progress!
I really like this app for several reasons…
Real photographs for stimuli
Progression of difficulty
Data collection to monitor progress
Simple & easy to use
Stimulus appropriate for teens
Use for many different goals
What I would love to see in the future…
An indication of what word(s) is wrong when the student incorrect
Overall, this is a great app, that can be used for so much!  Sentence Builder Teen is available in iTunes for $5.99…but one lucky reader will win a free copy!  Enter via the Rafflecopter below!