Today I wasn't feeling so hot, but I have a fabulous practicum student from FSU working with me on Fridays, so she was a huge help.  When we were pulling games for the afternoon groups, I pulled out two of my faves and she wasn't familiar…and I thought…could it be that there are speechies who don't know about the super awesome Chipper Chat games from Super Duper?!?!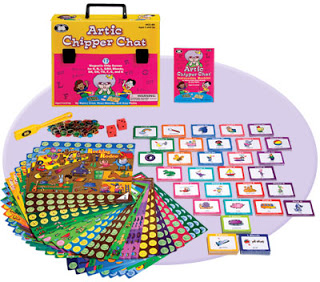 Artic Chipper Chat is one that I bought fresh out of grad school and it has saved me in many a session.  It covers /s, l, r, ch, sh, th, k, g, f/ and /s, r, l/ blends!  It is really engaging with the magnetic chips and the famous magic wand!  You can work on so many sounds at once, which makes it ideal for group sessions.  You can play many different ways…
Use the included artic cards for the students to practice at the word or sentence level to earn chips
Play I spy to earn chips
Have the students roll the dice and find that many pictures to name to earn chips
Use as a language game to work on vocabulary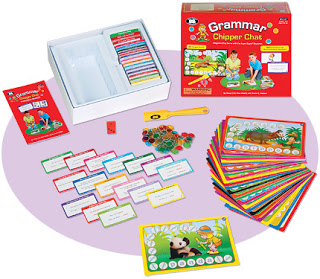 The other one I have is Grammar Chipper Chat.  I bought this one a couple of years ago, knowing how much the kids like the artic version but needing something for grammar goals.  This thing is amazing…it targets 16 grammatical structures.  It also comes with the game boards that have all different animals on them…I use these without the grammar cards sometimes!  It works really well for collecting data to monitor progress for specific goals.  

I know there are few other versions of Chipper Chat that Super Duper sells…do you have any?  Do you find that these are excellent additions to your therapy room like I do?