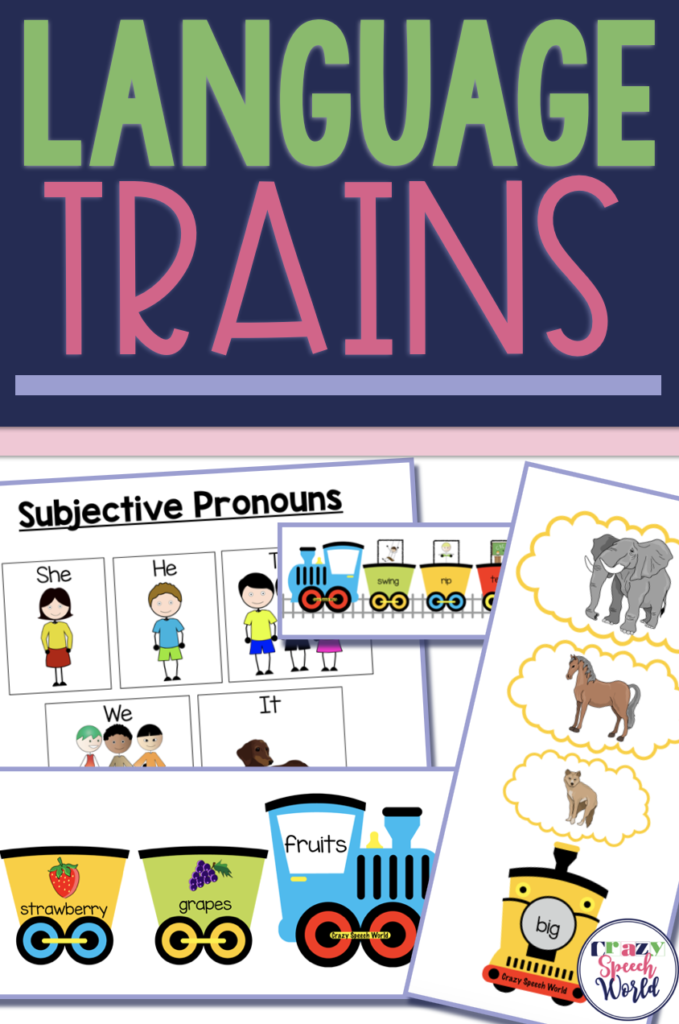 I am so, so, SO excited to share this packet with you guys!  Two reasons…I have a special place in my heart for trains since my (not so) little boy had a major obsession with a certain little blue engine.  I mean, my house was nothing but trains, tracks, and stations.  But also because this is my first product to be shared using my new Smarty Symbols!  I know how everyone loves having picture examples in their materials!  So without further ado…All Aboard!!!  This 20 page download is for your little guys, PreK to 2nd.  I included 3 different language skills in this pack that I am having goals for constantly…categories, pronouns, and comparatives/superlatives.
Up first is categories!  I included 10 different low level categories, each with 3 different objects.  The category is labeled on the train's engine.  There are 3 train cars for each with a word and picture.  You will cut apart all of the train cars so that students can match the cars to the correct engine based on the category.
Puffing Comparatives & Superlatives includes 10 trains, labeled with a descriptor word, and each train has 3 cloud puffs with pictures to be described by the descriptor.  You can do this activity a couple of ways…for lower students, leave the puffs together with the train and have the student use comparatives/superlatives to compare the objects in order.  For example, for 'cold' the target would be for the student to say a drink is cold, a refrigerator is colder, and ice is the coldest.  They could point to the pictures as they produce the sentences.  To make it more difficult, you could cut the cloud puffs apart and have the student put them in order, based on the concept, then produce the comparatives/superlatives in a sentence.
The last activity targets subjective pronouns:  She, He, They, We, and It.  I included 5 cards with the target pronouns.  You can choose to cut these apart or leave them on one page as a reference…or both!  I pick both 🙂 . There are 10 trains on the tracks and each train has 3 action words/pictures.  To play students will choose a pronoun (or you will provide them one) to be their trains' conductor.  For each train, they will place their pronoun in the engine car and use it to make a sentence with each of the action words using the target pronoun.  This not only targets correct pronoun use, but also noun-verb agreement and sentence structure.
You might have also seen a post by Jenna over at Speech Room News featuring these trains  in an activity for artic… since mine are for language, so you could even pair these activities for a train theme in your speech room!  Or for the train obsessed boys in your life 🙂
You can find this packet in my TPT Store!
I hope you guys like these activities!  Please let me know what you think!  Also…if you had an interest in bilingual materials…stay tuned 😉