I might have said this before, but Where The Wild Things Are by Maurice Sendak is my favorite book.  Ever.  It has a special place in my heart, as it was my mom's favorite children's book.  My mother was an elementary school teacher and gifted me the love of reading at an early age.  She was so creative and inspiring, truly one of the very best…and I was so blessed to learn from her.  Whenever someone had a baby, she would buy the hard cover of this book and give it to them.  It was the first book she gave her grandson, my baby.  My mom passed away a few years ago, so this book for me is a little bit of her.  And I have taken over the tradition of purchasing this book for the babies in my life.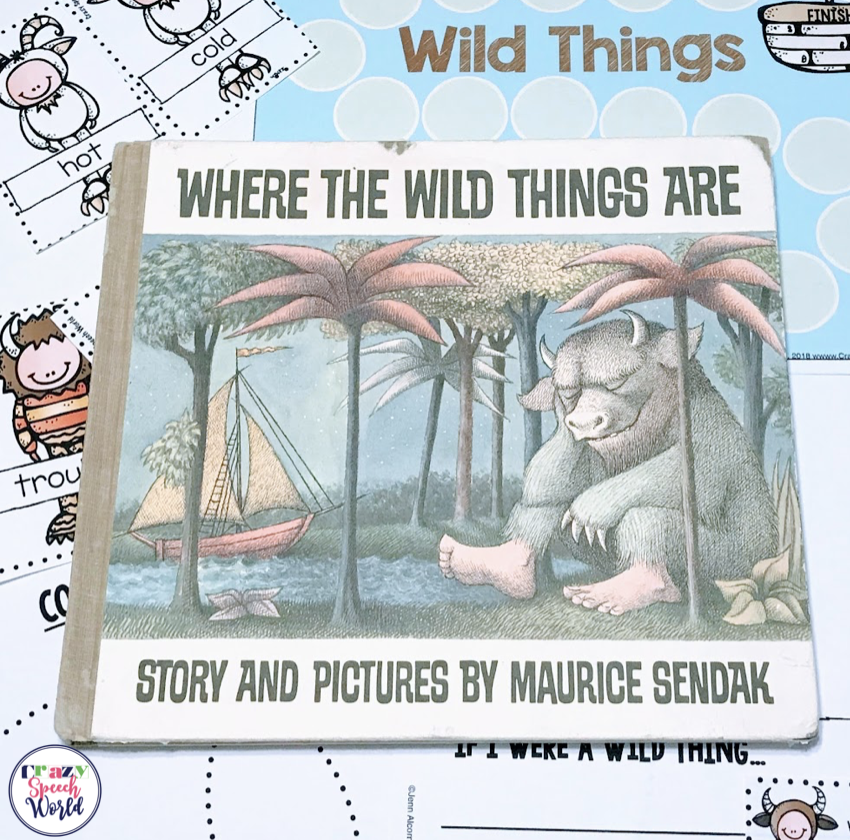 If you don't have this book in your collection…you should.  It is a great story, but it also is awesome for language.  There is a TON of ways you can use this in therapy…there's always the obvious sequencing and retell, but there is really wonderful vocabulary in here (Tier 2!) also.  The illustrations are amazing and you can spend a lot of time describing the characters and settings.  The storyline lends itself to imagination and fantasy, which is good for critical and flexible thinking.  And it is another book you can use to cover behavior.
BUT, since it is my favorite and I use it alllllllll the time, I decided to make some activities to go with the book.  I searched high and low for clipart, which I eventually was lucky to snag from Melonheadz Illustrations.  Nikki has fabulous stuff, so go check her out!  Anyways…introducing….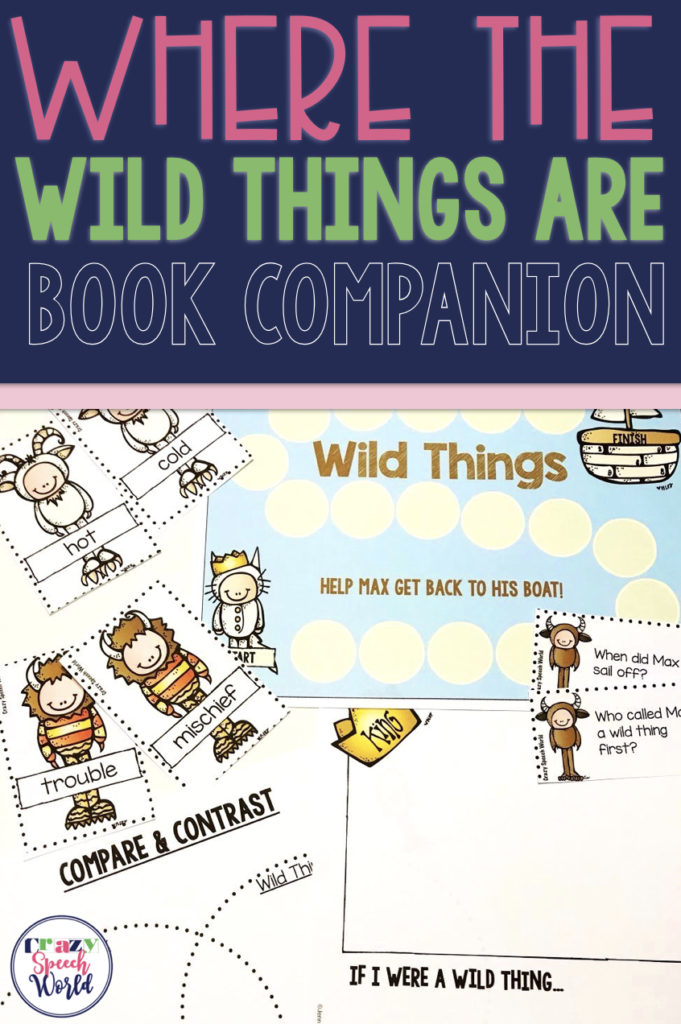 I have included 6 activities with this download and I couldn't be happier with how it turned out.  I also couldn't be more excited to share it with you guys 🙂  Here's what's included:
–Antonyms…one word in each pair is in the story.  There are 32 cards in all that you can use for matching, go fish, or memory!
–Synonyms…this is where I incorporate some of those good Tier 2 Vocabulary words.  If you are not familiar with Tier 2, I have a post coming on that…but until then, check out THIS.  There are 24 cards in all that you can also use for discussion, matching, go fish, or memory.
-You know me and my game boards…you just can't go wrong with these!  You can use this with any of the card sets included in the download OR with any target you want!
–Comprehension questions….I did 12 direct WH questions, then I did 12 indirect questions for why/how, inferences, and text to self connections.
–Writing prompt "If I were a Wild Thing…".  Students can draw a picture and write a few sentences about what they would be, look like, or do….or whatever else you want!
–Venn Diagram to compare and contrast Max and a Wild Thing.  I included the clip art on this page so there is a visual for them to use if needed.
These are gonna go great with the story, but I know I can use the game board, synonyms, and antonyms anytime!  I hope you love this set as much as I do!  I can't wait to use with my kiddos!
You can download this is my TPT store!
For every one of these I sell, I am giving a dollar to  The Brain Aneurysm Foundation in memory of my awesome mom <3 Click on the link to donate or to read more.
Do you use this book in therapy?  What other activities do you do with it?