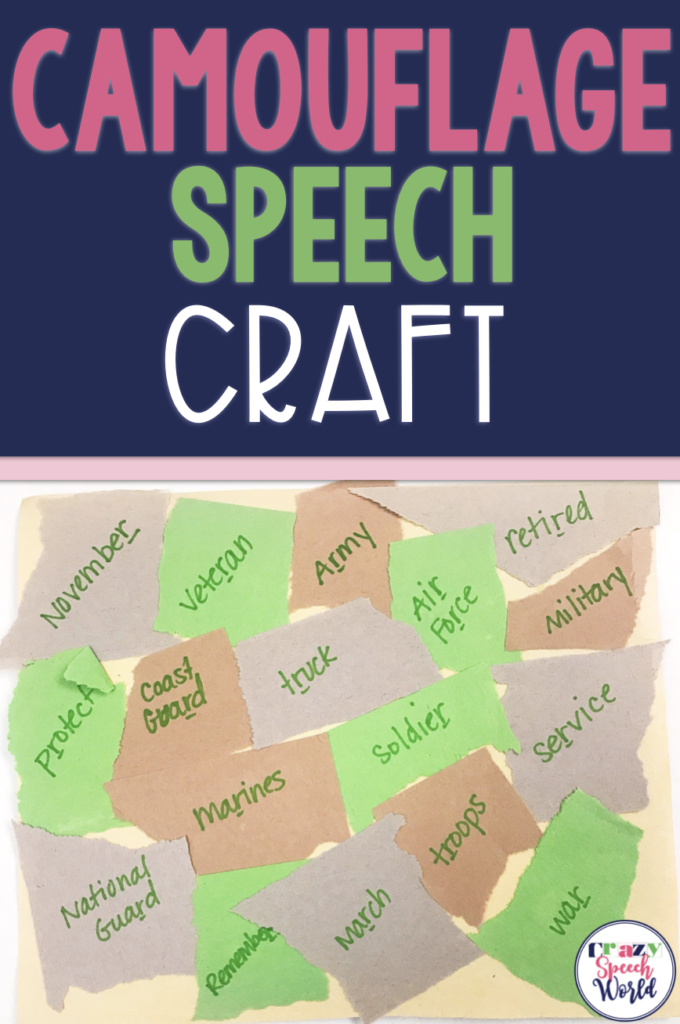 So when I was trying to think of what fun craft I could do with my kids this week for the Veterans Theme, I immediately thought of camouflage.  It is a great talking point (i.e. why do soldiers wear camo?) but then I thought of this activity and I knew I was gonna get to rip up some paper!  Lol, it's the little things, really….
You can't beat this kind of prep…rip up some construction paper.  I used gray, green, and brown…I kept the colors light so that you can see once they are written on.  That's it.  Easy peasy.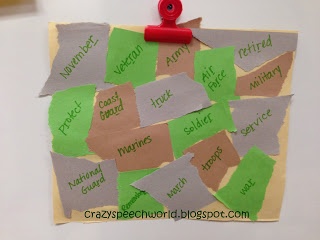 This is my example!   You can target ANYTHING with this kind of activity.  I used it a couple of different ways…for my older crowd, we brainstormed words that go with Veterans Day and wrote them on each piece.  For artic groups, we targeted their sounds.  For language groups, we worked on describing, sentence structure, etc.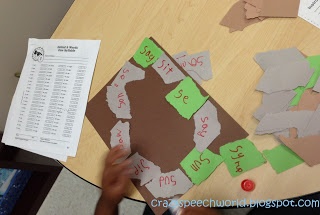 For my younger crowd, we copied words that we brainstormed together or from our speech lists.  Many of my little artic kids are also working on decoding goals, so I like to give them their speech list and they "spy a word" that they can read, then write it down.
We had a great time with this activity! Never underestimate the power of the simple!  I hope you can use it in your speech room, or it gives you an idea for something else 🙂
Leave me some comment love and tell me what you are doing crafty this week or let me know what you think of my idea!