I know you've heard the hype…I've seen other bloggers reviewing this app, which is why I quietly waited my turn.  But I just can't hold it back anymore!  THIS APP IS AWESOME!  I already had a Articulation Scenes, another Smarty Ears app, which I also love.  When I was offered to try and review Syntax City, I jumped on it.  While I was given a free copy of this app for myself and one to giveaway, the opinions in this review are mine, all mine 🙂  Now…we are off to Syntax City…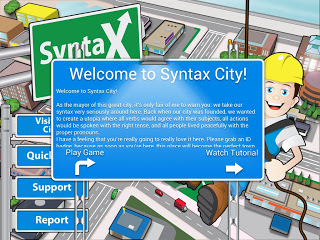 When the app lauches, you get an auditory introduction, as well as the option to watch a video tutorial…I definitely advise you to watch it before using the app!  To get started you will select Visit the City.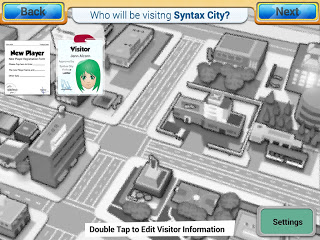 This is where you will add your students.  You enter their name and then choose to add photos or use avatars.  You also will manage your settings for audio play, what to do when the student answers incorrectly, and prompts for voice recordings.  There are two options for when a student answers incorrectly: the wrong choice will disappear OR it can make a buzzer sound.  Once you have entered all your students, you will choose the ones you are selecting for play.  You can choose up to 5 players at a time!  The app switches seamlessly among the players and their respective skill area as they take turns.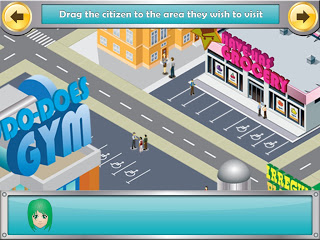 Once you have chosen which students are playing, you will be in the city.  You are given an aeriel view, which you can navigate by dragging the screen.  Once you find your targets, you will drag each student to the location they need to go in Syntax City…
 Was-Were at the Bakery
Regular & Irregular Plurals at the Zoo
Irregular Past Tense Verbs at the Farm
Has-Have at the Grocery
He-She at the Ski Resort
Is-Are at the Park
Third Person Singular Agreement at the Beach
Do-Does at the Gym
As you can see, this app covers tons of objectives!  For the purposes of this review, I will be visiting the Gym to work on do vs. does.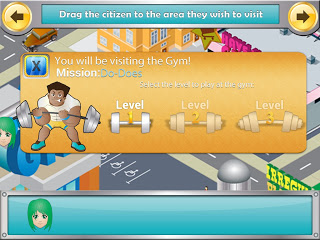 When you enter, you are prompted to choose from three levels.  I chose Level 1.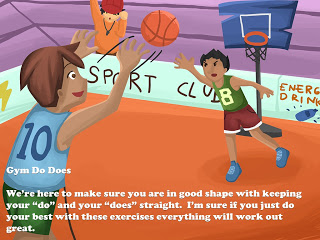 The app then launches an introduction to the skill, with a graphic that aligns with the area of the city you are in.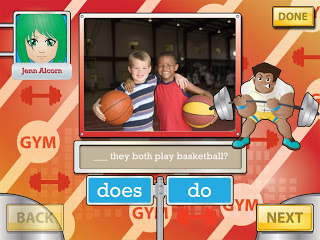 Now you are ready to play!  If you have chosen to have the audio on, the app will read the sentence, leaving a pause for the target.  If you need it to be read again, you simply tap the sentence.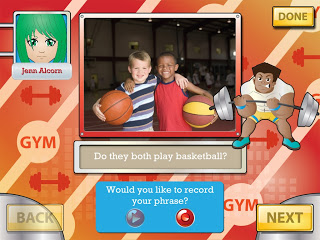 Students make their answer selection, if they are correct, the app will prompt you to record the sentence.  If incorrect, the student will either hear a buzzer or the incorrect answer will disappear, depending on what your settings are.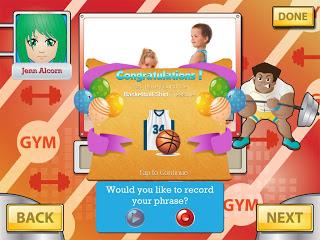 Throughout game play, students earn treasures, which are used as motivators.  There are treasures in each part of the city for the students to collect, and they can keep track of their treasures in the report card.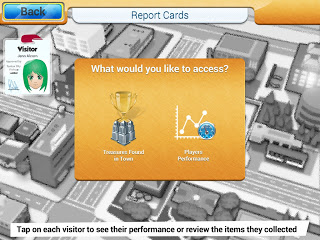 To access student report cards, you click on Reports on the main menu.  You can then view the treasures that the student has found or the performance report.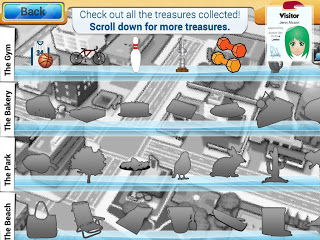 The treasures report is good for students to see how much they have collected and how many they have left to go to finish a area of the city, or skill.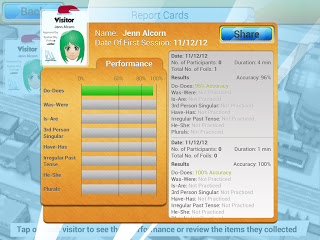 The Player's performance record is really impressive…it gives so much great data about each time the player has used the app, as well as an average performance on the graph!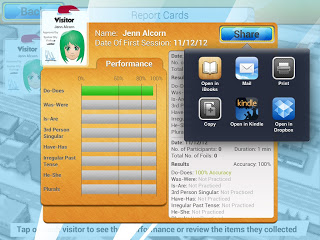 You have the option to share the data…email, print, open a PDF report in ibooks or Kindle, or if you have Dropbox like me, you can store data there in pdf form.  Cool, right?
Don't need all the data?  There is also a Quick Play option that you can use to access each part of the app.  It will even give you a performance report at the end of play, it just doesn't save it to a user profile.  This could be good to use as an exit ticket strategy at the end of session after working on one of the skills.
Here are my personal favorites about this app:
Allows for multiple player access in one session…and they can work on their individual goals…a school SLP's dream!
Detailed data tracking that can be shared or stored easily
Real photo stimulus pictures 
8 different areas of commonly targeted objectives for therapy
An engaging theme, pictures, and characters
Option to use student photos OR avatars for profile pictures
Works for expressive AND receptive language
Multiple levels of difficulty for different skills
Option to record 
Things I would like to see in the future:
When the audio option is on, the app does not read the completed sentence once a answer is chosen.  It would be nice for our non readers if the app would read the completed sentence to them.  I'd also really like it if the students couldn't choose an answer until the stimulus sentence was done being read to them.  
I like to know how many items are left in a certain activity…and some kids need to know that too.   I would love an option that tells you how many sentences have been completed in comparison to how many are left in each area.
The possibility of tracking correct expressive responses the data collection
Overall, I have to say I am super impressed.  This is an excellent addition to my therapy toolbox!  It is on the pricier side of apps, regularly $34.99 in the iTunes store, BUT, it is on sale until 11/23 for $24.99 in celebration of the ASHA Convention!
AND…I have one copy to giveaway to a lucky reader!!  Enter via the Rafflecopter below!  GOOD LUCK!