I'm not sure if I came up with this on my own (I'd like to think so) or if I saw it somewhere (more likely!), but I have been doing it for so long that I know one thing for sure…it is an AWESOME therapy tool.  I use stories weekly in my therapy and I always try to have graphics from the story so that we can do some sort of retell and/or sequencing.  And that's where story stick was born…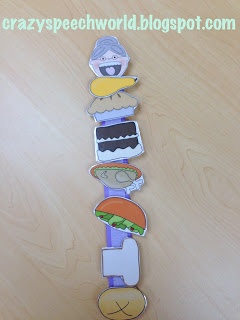 Now you may be asking…what in the world is she talking about?  Don't worry, I will explain!  Above is an example of a one of the ones that I have in my room.  Basically it is a long stick that hangs sticks to my whiteboard, covered in velcro.  When I have graphics for a book, I attached velcro to the backs of those…like this weeks story There Was An Old Lady Who Swallowed a Pie.

I have all of the pictures in a baggy, so that after we read the story, students can hold it and sequence each piece, then retell!  It's perfect!  Can I also tell you that this is SO easy to do…

All you need is a ruler or paint stick (I have one of each).  Since I am me, I had to cover it in paper…of course that isn't a necessary step.  Then, you cut a piece of velcro to cover one side.  I also add a magnet to the back so it will sit on the whiteboard.  

What do you think?  Do you use anything like this is your therapy room?