This week was a busy one for me!  I had staffings coming out of my ears due to FTE week (when we count our students for funding)…had to get those new babies in!  While my schedule might explode, I ended up doing some pretty fun stuff this week.  I did a post earlier in the week for some Fire Safety activities, but I had more for my artic groups I wanted to share with you!
This first one was an activity I used with my artic groups.  I found a pic of a firefighter holding a hose, reduced it by 75% and put in on the corner of a red piece of paper…then gave the the students little water drops I cut from construction paper and they wrote one speech word on each one!  They LOVED this!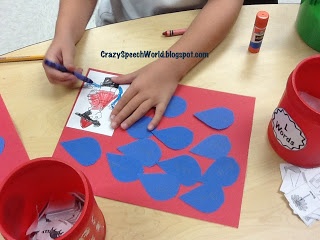 I couldn't find the same firefighter pic I used, but I found some others HERE.  
At the end of the session, they took it home for practice!  PERFECT!
Next one is Firetruck bingo.  I found this worksheet on Pinterest…you can download it free HERE.  Everyone made their own bingo board by writing one speech word on each fire truck.  Then I threw all their words in a bucket and we played Bingo!  They had to cover 4 to win!  This was also a big hit 🙂  And they had a homework sheet to take home!  Double whammy with the homework this week!  Woo!
While I did the fire safety activities this week with my primary kiddos, my main theme this week was Community Helpers.  I got these little miniatures over the summer on clearance at Michael's…I was so excited to finally get to use them!  
While we did use them to describe each helper's job, I used them mostly for following directions and positional concepts.  
As you can see, had some fun with this 🙂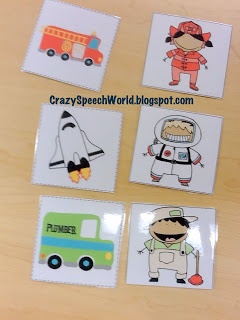 I also found these awesome flash cards, you can grab them HERE!  We described each one and what their job was, then matched them to their transportation!  
I also downloaded this super awesome printable book, which you can snag HERE.  I ended up coloring (guilty pleasure!) myself, then laminating and putting on a binder ring.  We discussed some them as a group, filled out the word maps using dry erase markers…and then they got to pick one to do one their own and share with everyone.  After my session was over, I wiped off the dry erase…now, I have something I can use again and again.  But, you could also do a book for each student if you wanted!
Next activity was a compare & contrast.  I found this freebie HERE, which I also laminated and used dry erase markers with.  We did this one together, then they chose two different community helpers to compare and contrast on their own to share with the group.  This was a challenge for some of my second graders!
The last thing I did with them is a writing activity.  This writing page was apart of the Community Helpers & Transportation download above.  They told me what they wanted to be when they grow up & why.  I loved these so much I hung them up in my room <3
For my middle school students, we did some research about jobs they are really interested in.  Now they are working on an advertisement project for their chosen profession.  They have really enjoyed it!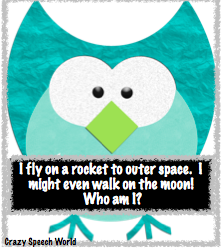 I also used the WHOO is it? game, which is available as a freebie in my TPT Store.  It was a lot of fun, even for my older kids 🙂

I hope that gives you some fresh ideas for your therapy room with these themes!  Remember, October is Fire Safety month, so you could use the fire themed stuff any time this month!  Many of the activities can be used across grade levels, you just adjust the expectations and goals for the session.

Let me know what you think!  Would you use any of these activities with your students?