This past week may have topped the Pirate theme.  Maybe.  I did a carnival theme for the first time ever, and I am here to tell you that it was A-W-E-S-O-M-E.  My kids and I had such a great time 🙂 Here are some of the highlights: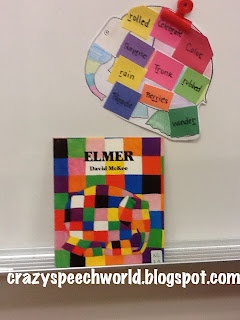 Since elephants are my favorite animal and this one is super colorful like carnivals, I used "Elmer" by David McKee as my book of the week.  Is it 100% fitting for the carnival theme?  Not exactly, but it is a wonderful story!  The basic principle of the book is to love yourself despite your differences from others.  I was able to incorporate this with both articulation and language…




First thing I did was find a blank printable elephant, which you can grab HERE.  Then I cut a ton of construction paper squares.  For artic, I had the students write their speech words on each square as a filler activity while I worked individually with each student.  Again, I got in LOTS of words (around 75) and they ended up walking out of their session with a homework sheet to practice!




For language, we read the story together and talked about the story grammar.  Then we worked on adjectives about ourselves…I did a web for Miss Alcorn on the board and we talked about what words describe me (I'm happy to report that these were all positive :)).  Then they wrote their own on the colored paper squares and put them on an elephant.  They loved doing this and it was a great self esteem booster for some of them who are having a rough time right now as things are getting more difficult in the curriculum.  They were so proud of themselves when they walked out, which always fills my bucket 🙂



We had a ton of fun with the Carnival Language and Carnival Articulation Packs!  Above you can see us working on noun/verb agreement with the ball pit.  I spread the balls all over the table and they took turns choosing one and putting back on the correct ball pit.  It was awesome!  The ticket activities for vocabulary were just as great…and don't tell them I told you, but my 5th graders asked to play the multiple meanings game TWICE!  Ha!  You can find them in my TPT store 🙂

What do you think?  Anyone else using a carnival theme?  What do you have planned?