I really enjoy hearing how you guys are using Crazy Speech World ideas, so I am incredibly excited to have Shannan Weimer guest post for us today!  When she emailed me about her implementation of Miss Tweet, it totally rocked my world, so I know you guys will LOVE it… 
When Jenn asked me to write a guest post about my "Tweet for a Treat" board I was delighted!  After all it was her July, 2012 Time to Get Crafty post that inspired my own crafty creation, "Miss Tweet."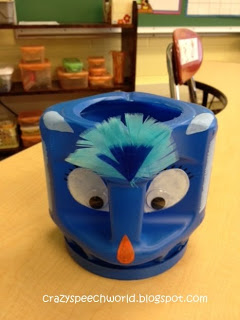 I like to give my students a candy treat after their last session for the week (I get written parental permission at the start of therapy). I also have a few students that like to check in with me at the end of the day for a quick visit, and yes, a treat. I loved the idea of an exit ticket for my therapy students and having the students that drop by, share something before they can get a treat. So, after reading Jenn's blog, the idea to "Tweet for a Treat," was born. I made "Miss Tweet" following Jenn's blog instructions but aimed to make her look a little more like the Twitter bird icon. The awesome SLP that I share a classroom with jumped on board with the idea and found some graphics of the bird on Google that we used to create posters for a bulletin board and "Tweet Sheets."
We created a small "Tweet Station" across from the bulletin board with Miss Tweet, the Tweet Sheets, pencils, an instruction poster and of course, treats! Typically K-1 students verbalize their tweets to us and we write them, while grade 2-4 students write their own
I first tried out our "Tweet for a Treat" on Parent-Student Orientation Day.  It's sort of like an open house the first day of school, where students and their parents come in to meet the teacher and see their new classroom, hear a short presentation, drop off supplies, etc. Those students that visited the Speech-Language Room were offered an opportunity to "Tweet for a Treat."  To keep it simple, I asked them to tweet about a reason they were glad to be "Back to School." The kids loved it! They eagerly wrote down their thought on a Tweet Sheet, put them into Miss Tweet and selected a treat.

I posted the tweets on the Tweet Board for the first full week of school.  It was a great springboard for discussion during therapy about Miss Tweet, the new procedure for earning treats, and feeling/thoughts about being back to school.
 Now that we are full swing into therapy sessions, we plan to have Miss Tweet request specific weekly tweet topics for treats, like what is your goal/what are you working on in the speech-language room, what is something new you learned in therapy this week, what is a question you still have, etc. We may even do specific tweets for different groups, like having a group working on following directions tweet about a strategy that helps you remember verbal information or an articulation group tweet about how to make their target sound with "Good Speech." These types of tweets would help me check in on their comprehension and learning. It's also a great way to share ideas that other students may benefit from trying. For students that drop by for a visit, We'll make the tweet topics open ended and let them choose from what is on the instruction poster. We are really excited about all the possibilities. How about the week before Open House having students tweet about something their parents should know about speech-language therapy or the speech-language room? We're even thinking down the road to seasonal or holiday related tweets.
You can download the Tweet Sheets HERE 


You can download the Tweet Poster HERE 

You can download the  Bulletin Board Tweet HERE
What do you think? Could "Tweet for a Treat" work for you and your students?