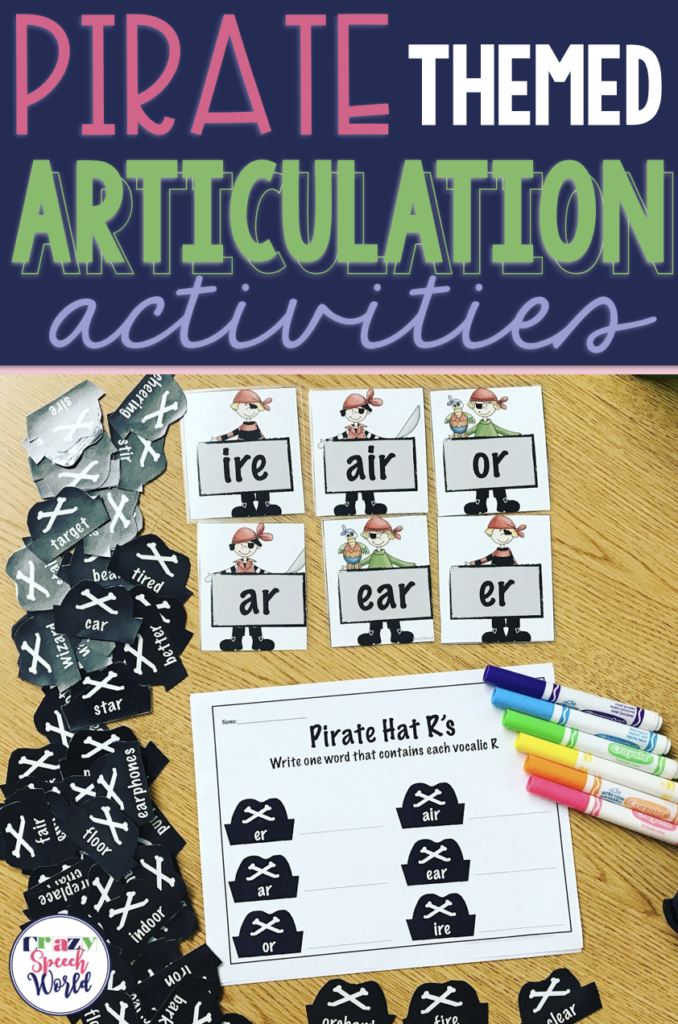 I just couldn't resist using the little pirates again to create articulation based activities!  I have gotten such a positive response with Ahoy, Language!, that I thought many of you might like more 🙂
The first activity is an open ended card game all about accumulating points.  I don't know why the kids like points so much, but if that's what motivates them, it's ok with me!  This game can be used with any of the kids on your caseload to target whatever you are working on.  It includes 46 point cards ranging from 1 to 5 in value, as well as 6 penalty cards that cause players to lose their turn.  Whoever has the most points at the end is the winner!
Next up…the dreaded vocalic /r/.  I know many of my students need help with these and I don't have many activities geared specifically for it.  But now I have Pirate Hat R's!  It includes one sorting mat (above) and 72 pirate hats to target each of the vocalic /r/ patterns!  You can also use the sorting mat to reinforce syllable practice.  There are 12 pirate hats for each vocalic /r/.  You can work on one or all 6!  My first idea was to have students sort based on the pattern, but you could also make it a game where they collect the hats for the pattern they are working on and whoever has the most is the winner.  There is also a worksheet that you can use for carryover and homework!
Last is another sorting game with a treasure chest…Articulation treasure!  Each student gets a treasure chest picture and then they collect gold coins with their target if they say it correctly.  They can practice at the word, phrase, or sentence level.  I included coins for /s, r, l/ and there are 35 for each sound.  Initial, medial, and final positions are targeted, as well as blends.  I also added 35 blank coins that you can customize for any target!  Again, there is a worksheet for students to use for carryover and homework!
Whew!  I have had so much fun creating these pirate materials and I hope you all like them!
This articulation pack is available in my TPT Store.