Did you know that September 19th is Talk Like A Pirate Day?  I think that may be one of the best invented holidays 🙂  Because of that, I always do a pirate theme during that week.  In preparation for Pirate Week, I have gotten together some new materials!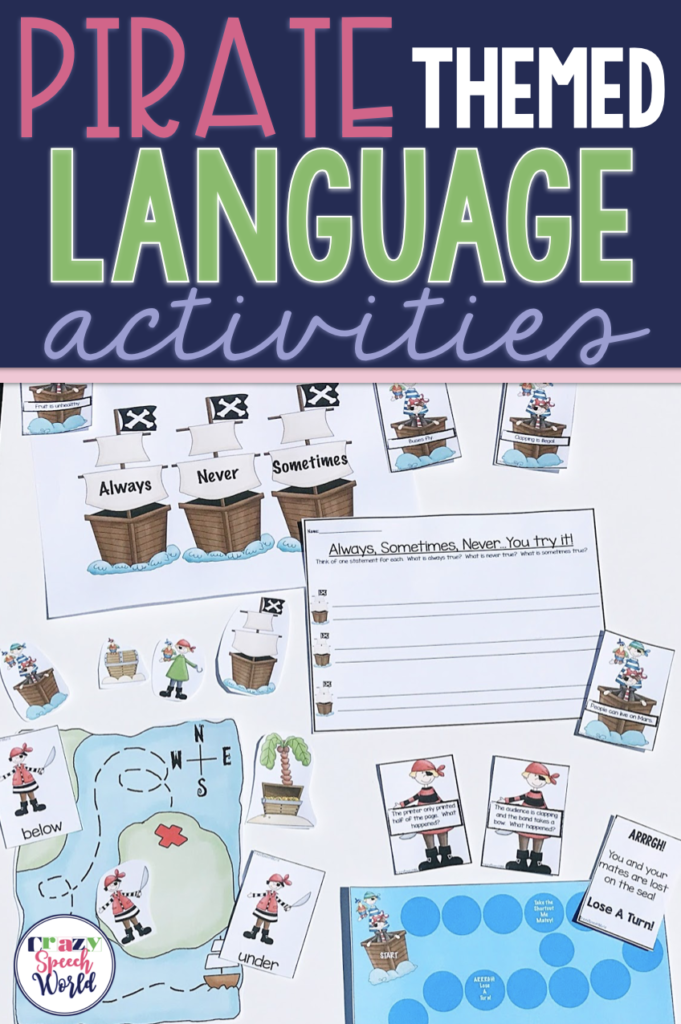 Ahoy, Language!  This pack includes 6 different activities to target a variety of skills:
Pirate Inferencing, a card game with 38 situational inferencing cards and 6 penalty cards.  To play, have students draw cards from a pile and read the scenario.  They will have to tell what happened using the clues.  If correct, they can keep their card.  If they draw an ARRGH! card, they lose one turn.  Whoever has the most cards at the end is the winner!
Always, Never, & Sometimes Ships.  This is a great activity to target listening comprehension, judgement, and reasoning skills.  As you go through each statement, discuss why it is or isn't true.  There are 24 cards, 8 for each ship.  I can see this activity playing out a couple of different ways.  My first idea is to give each student a set of the ships, then the therapist reads the statement and the kids hold up which ship they think it belongs too.  You could attach the ships to popsicle sticks!  The other way you could play is to leave the ships all on one page and students take turn drawing cards and putting on the correct one.  I also made a student worksheet to go along with this activity!  Great for carryover and homework 🙂
The next is another card game to target intermediate level antonyms.  You can use as flash cards, matching, memory, or go fish!  There are 26 antonym pairs, 52 cards in all!  Use these to work on vocabulary skills with your 4th and 5th graders!
I made Pirate Preposition cards thinking of them being more open ended than anything else.  You can  use them to work on prepositions in space by having your students demonstrate the preposition targeted using the card…for example if they have the card that says "above"  have them act it out.  Above the table or the chair.  Have objects available for them to manipulate to demonstrate comprehension.  You could also use it to practice at the sentence level, putting each word in a sentence to work on expressive skills.  There are 12 cards.
A full page treasure map is to use as a barrier game!  I love barrier games because you can target so many great skills…vocabulary, following directions, basic concepts, etc.  You can print off one treasure map and have students take turns giving directions or you can give everyone one and a set of pictures and see if each of their maps look the same at the end!  I included these six pictures to manipulate with the treasure map.  You can print out as many as you want to use!  I can see this being a favorite with my students!
Last up…an open ended board game.  You can count on me to always throw one of these in!  Use with the included cards or your own targets.  Just add game pieces and dice.
This pack is available in my TPT Store!
I hope you guys like it 🙂  Let me know what you think!