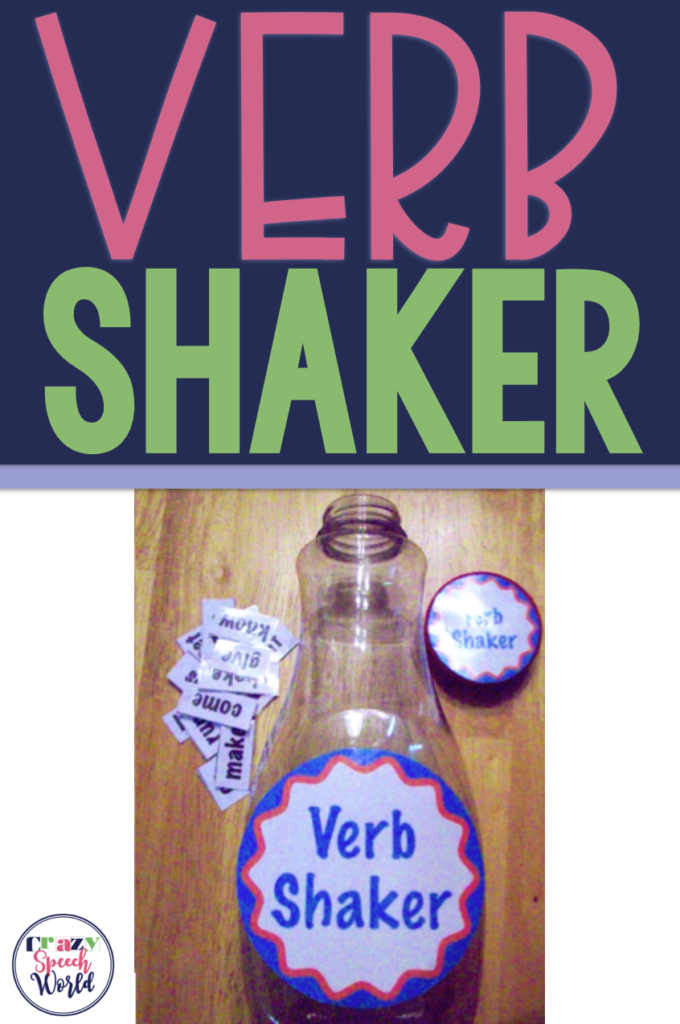 I have another Pinterest inspired DIY game for you!  One of my most favorite blogs is Classroom DIY…they have so many great ideas!  It is a collaborative blog, where several contributors do posts on DIY projects.  I even found that they had a similar project for the cereal box files I had seen else where and shown y'all!  Well when I pinned their post about DIY Shaker Games, I knew this was a project I wanted to tackle ASAP!  It is like a discovery bottle, and students shake rice around to find the words.  So here is my version…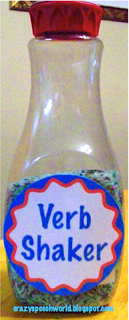 Since Classroom DIY did a Synonym Shaker (you can download for free HERE), I wanted to do something different.  I have gotten so many comments that from my readers that they are always looking for more irregular verb activities, so that is what I decided to go with!  There are a lot of steps involved in this one, but I think it is totally worth it.  First thing you need to do is dye the rice….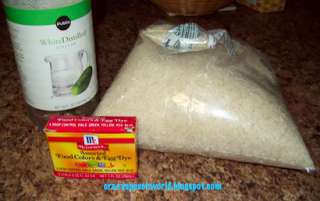 Gather up rice, vinegar (or alcohol), food coloring and a plastic baggy…I recommend the gallon size baggy!  Put rice in the bag, add one tablespoon of vinegar/alcohol, and several drops of food coloring.  Squish the bag around until all the rice is covered in color…if you have kids in your house, let them help!  My son and I did this part together and we had a great time 🙂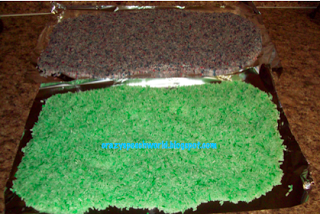 After your rice is the color you want, lay it all out to dry.  I let mine stay out overnight!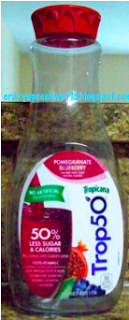 Then, I got busy on preparing the container… I used this Trop 50 container, which was the suggestion from Classroom DIY.  I'm sure it would work with other clear bottles, but Trop 50 just happened to be on sale and this Pomegranate Blueberry juice is totally delicious 🙂  I washed the bottle out, pulled off the labels, and then used Goo Gone to get all the leftover gunk off.  I let it dry overnight with the rice.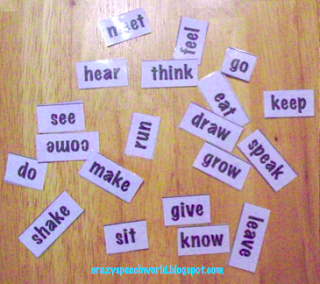 Next step was to prepare the verbs.  I cut out all my words.  I printed them in a table, with each word listed twice.  I did this so I could fold them over and each card would be double-sided.  This way, no matter which direction the word card is facing, your students can see the word cause it's on both sides.  I also laminated each one for durability.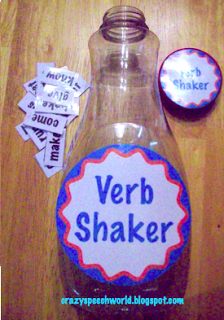 I also laminated the bottle labels, then used a glue gun to attach them to the bottle.  Then I threw in my word cards and the rice.  I recommend using a funnel…otherwise rice will get every where.  Been there, done that 🙂  I filled it up about 2/3's of the way, so that there is room for the rice to move around.  It was also suggested in the original to hot glue the top on so that you don't have a rice explosion…probably a good idea!
I think there are so many ways this could be used in therapy and I am excited to try it out!  The basic principle is the kids can shake the bottle around to find the different words hidden in the rice.  Once they find a word, they can:
identify past or future tenses for each word in the shaker
use the verb in a sentence in desired tense
independent activities for sentence writing or verb sorting
You can download this freebie HERE, which includes labels, word cards, and a worksheet to complete with the shaker!  Check it out and let me know what you think!
I also am going to make shakers for nouns and adjectives…you could also do articulation shakers, or even include objects in yours!  What do you think?   How else could you use this in your room?