I don't know one single person who hasn't expressed their love for the 80's in some way, shape, or form.  The hair, the fluorescent colors, and, my personal favorite, the music!  I am an 80's baby, so maybe that's the draw…either way, when I found clipart with an 80's theme I did the running man I was so excited!  You may think I'm joking, but my friends know this is a definite Jenn move  🙂  May I present….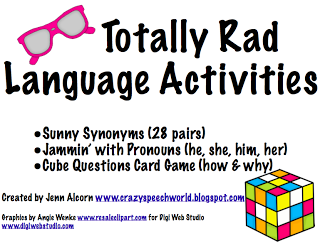 Now.  I recognize that our students most likely won't get the theme….and I am totally okay with that.  I feel like this is an opportunity to throw in a little about another decade, when things were incredibly different.  I love talking to kids about how much the world has changed, even just in my lifetime.  Their faces are priceless when I say things like… there was never a game system in my house or I didn't use the internet until I was about 15 or that my first cell phone was the size of a house phone.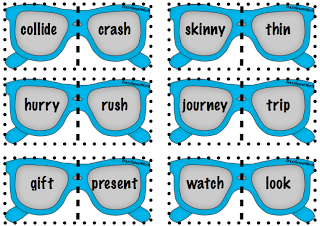 The first activity in this pack is Sunny Synonyms…all set with blue, pink, purple and orange shades!  Each pair of sunglasses has one synonym pair on it.  Just cut down the dotted line and you have a matching game!  There are 28 sets of synonyms in all.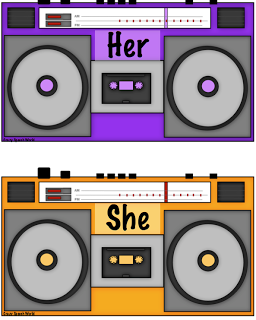 Here comes Jammin' Pronouns!  Now of course there were huge boomboxes and who can forget cassette tapes?!?!  I had about….a million.  For this activity, there are 4 boomboxes, each with a pronoun.  The tapes have a sentence on them, with one underlined word.  Students will read the sentence, figure out which pronoun replaces the proper noun and sort to the correct boombox!  I targeted he, she, him, and her for this activity.  There are 20 tapes in all, 5 for each pronoun.






And last but not least…a Rubik's Cube Card Game for why and how questions!  When I asked my FB followers what kind of materials they needed, I got a lot of "wh" questions responses….well this is part one of that request.  Included are 21 why and 21 how question cards, as well as 10 penalty cards.  You can put all the cards in a pile and play to see who can collect the most cards with correct answers OR you can use them as stimulus for another activity.  I did not include answer cards, mostly because kids can come up with different answers and still be correct, so I wanted it to be more open ended.  These types of question cards can be used for pragmatic language, sentence construction, comprehension, and so much more!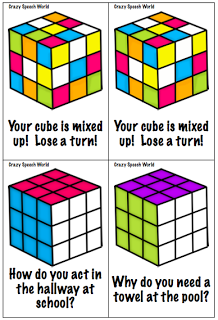 Well there is my trip down memory lane…what do you think?  

This language pack is available in my TPT Store!  And as always, thanks for your support!