This post contains Amazon Affiliate Links.
Most SLPs I know play games…lots and lots of games.  It is great for motivating little ones and the big kids….plus getting tons of practice into a session.  And we might just be the best at making any game target what we need it to!
As I was unpacking this week, I felt almost like it was Christmas….when I put all these treasures away at the end of the school year, I tend to shelf them from my thoughts also.  Seeing all of my material got me pumped for therapy!  I thought since I was so excited to see my stuff that maybe you might like a peek at some of my favorite (and most useful!) games that weren't exactly intended for speech.  I have so many that I decided to spread the love over the next few weeks.  Today we will look at the best one in my cabinet….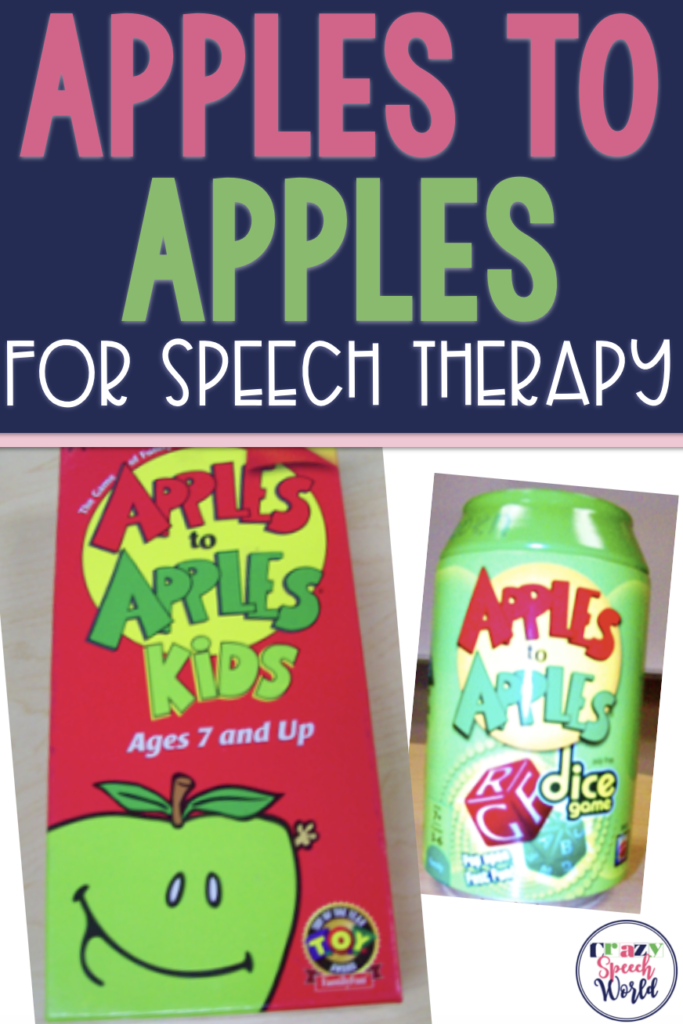 Apples to Apples Kids is my absolute, hands down, favorite non speech game EVER.  I love it….  even more than CandyLand!  How amazing is that?!  There are several different versions of Apples to Apples and variations of play.  Essentially, there are red apple cards which are nouns, and green apple cards, which are adjectives.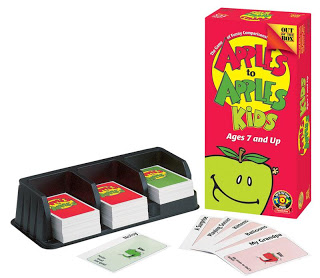 The way we play in my room is this:  each player is dealt 5 red apples and the judge puts down one green apple card a round.  The player has to choose a card in their hand to the go with the adjective…sometimes this can get pretty silly 🙂  The judge picks the best card to be the winner of that hand, and that player keeps the green apple card.  The person with the most green apples at the end is the winner.  This game is great for language because of the emphasis on parts of speech and vocabulary!  But you can also target articulation, voice, or fluency with the cards in play!  When they choose their card to play, they put it face down on the table.  I pick up all of their cards and shuffle, then I take a look and have each student read the word on one of the cards.  If we are working on articulation, I will choose a card that has their target sound in it for them to say.  If we are working on language, we will discuss word relationships, making sentences, synonyms, antonyms, etc.  Students can alway practice techniques they are working on for voice and fluency if they are also in your group.
Now, imagine my excitement when I found this…Apples to Apples Dice Game!  It is just as fun and even quicker!  Instead of cards, there are just dice.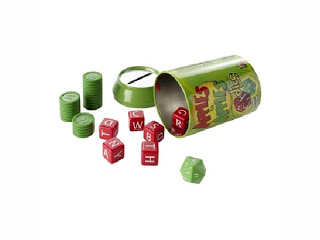 There is one green, 20-sided die, and red, six-sided dice for each player (up to 6).  Each one has letters on each of it's sides.   Also included are green chips, which are like points.  The judge rolls the green dice and chooses an adjective that starts with the letter rolled.  Then, the red dice are tossed and each player grabs one, naming a noun that goes with the letter rolled.  Like in the other game, the judge chooses a winner and gives that person a chip.  the person who has the most chips, wins!  Again, you can work on speech AND language goals with this game and target many objectives.
The suggested ages on both of these are 7 and up.  I have found it to be a great tool from 3rd grade up to my 8th graders.  My kids love it and I think it is probably my top request as far as "in the box" games.
Do you play any Apples to Apples games in your room?  Do you have other ways to play?