I am doing a quick presentation on Monday for the SLPs in my district on Common Core and I am sharing resources I have found to be helpful…I made a little reference sheet for them that I thought I would share with you guys too!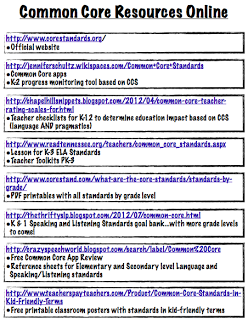 My intention is for this to be a working file that I can add too as I find things I think are useful for SLPs as they relate to Common Core.   I will update the file as it grows 🙂  You can download it HERE
Do you have suggestions for more resources you have found useful?