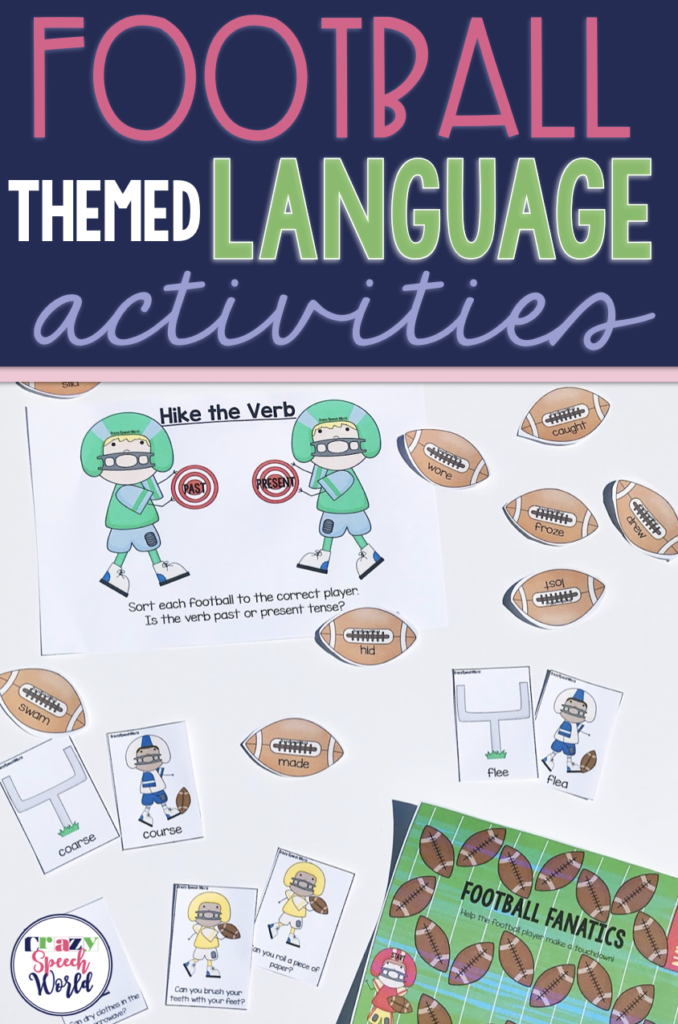 I finished the football pack!  I am so excited to share this one.  I got the adorable football graphics from Scrappin Doodles.
Included in the download are 5 language based activities to target listening comprehension, reasoning, vocabulary, and grammar:
First up…verbs!  There is one sorting mat with two football players, one for past tense and one for present tense.  There are 36 footballs with words…9 each of irregular and regular past and present tense verbs.  You can print one sorting mat for the group or one for each student.  Then, have all the footballs in one pile, each student taking on per turn and sorting it based on whether it is present or past tense.  You can choose to use the regular or irregular version, depending on what you are working on…or you can use both!
Next up is homonyms…a great vocabulary building activity.  The game includes 26 pairs of homonyms, which you can play matching, memory, or go fish!  Once they make a match, students can use each word in a sentence to demonstrate comprehension of each word's meaning.
Auditory comprehension….we all need activities to work on it!  This is a card game that does just that.  Read each sentence to the students and they identify a categorical detail.  There are 34 question cards and 10 penalty cards.
I also included the yes/no question comprehension cards and game board from my previous post, and added 4 new question cards.  You can also combine that set of cards with the FUMBLE cards for a card game or use any of the cards with the game board…who doesn't love versatility!
This set of activities is available in my TPT Store!  I hope you like it, and don't forget to let me know what you think!