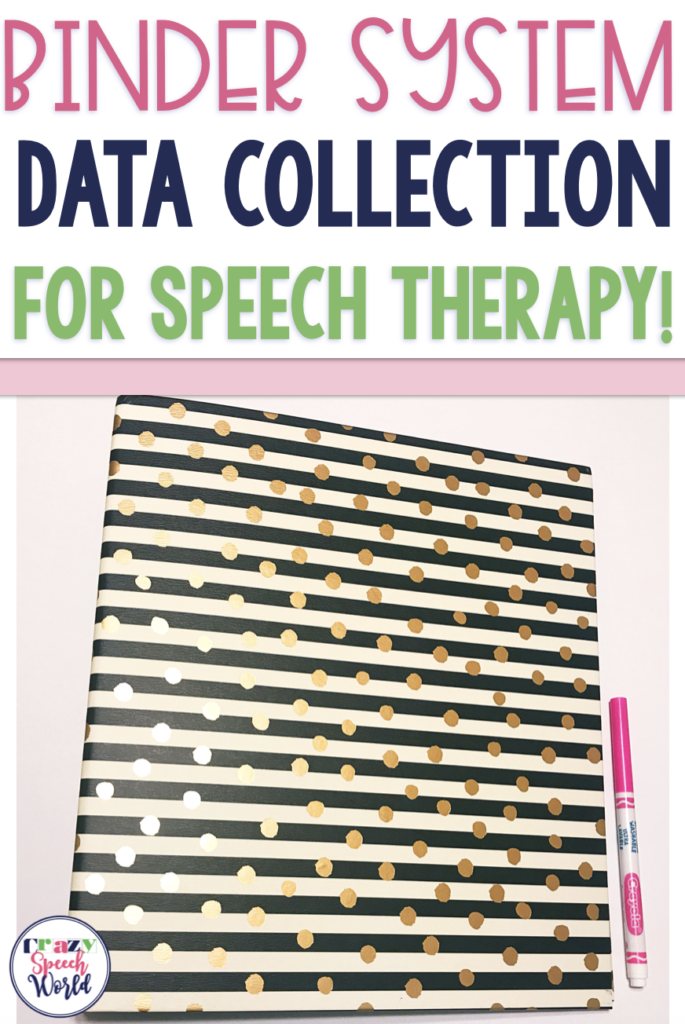 From discussions with my SLP friends and what I have read on several other blogs, we are all always trying to refine our data collection. I know for myself, I love to see what other people are doing…so of course I thought I would share my own system, which continues to be changed a little every year. I am a fan of paper and pen…I know with the explosion of iPads in therapy, a lot of therapists are using digital data collection. I happen to think this is fabulous; however, I do not currently use it. What am I waiting for? Someone to buy me an iPad 🙂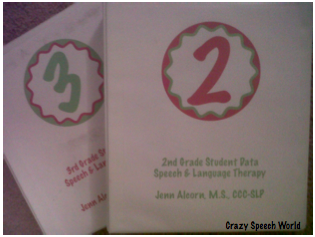 First up…organization. Last school year I started using binders to store student data, one for each grade level. I really like this system for a lot of reasons. Its easy to keep things organized, I have easy access to each student's progress, and it's portable. I keep all the binders in a crate next to my desk and grab what I need before each session starts. I have dividers to separate speech vs. language students, then each student has a tab. At the front of each binder I keep a copy of Common Core Standards for Language and for Speaking & Listening for reference. You can find those in my TPT store. In the pockets I keep different things…sound reference sheets, stimulus sheets, etc.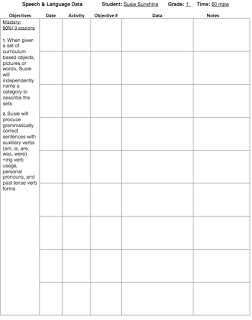 This is an example of the data sheet I use. I can't take credit for its design, but I honestly have no idea where I got it either. It has 9 blocks and I copy them double sided…it works out so that I have one page per quarter (if I see the student twice a week, which is the majority of my caseload). It gives me the flexibility to take numerical data, as well as anecdotal data. I've used this form for a couple of years now and its my favorite of what I have tried. You can download my data collection form HERE.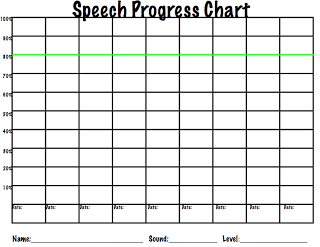 I also like to have my students get involved with their own progress monitoring…this can be extremely motivating and they love it! They can't wait to calculate their percentages at the end of our session and graph it on their chart. I let them do the calculations themselves on my giant calculator (Dollar Store find!) and they use a marker to color the graph it on the chart. This way, they know exactly where they are and where they need to be. They each keep a copy of the chart above in their speech folder. When they master their goal, I draw a huge smily face and hang it up in my room on the "Wall of Speech Stars". You can download it HERE.
So that's how I operate for data collection… for now 🙂 Is there a method to YOUR madness?