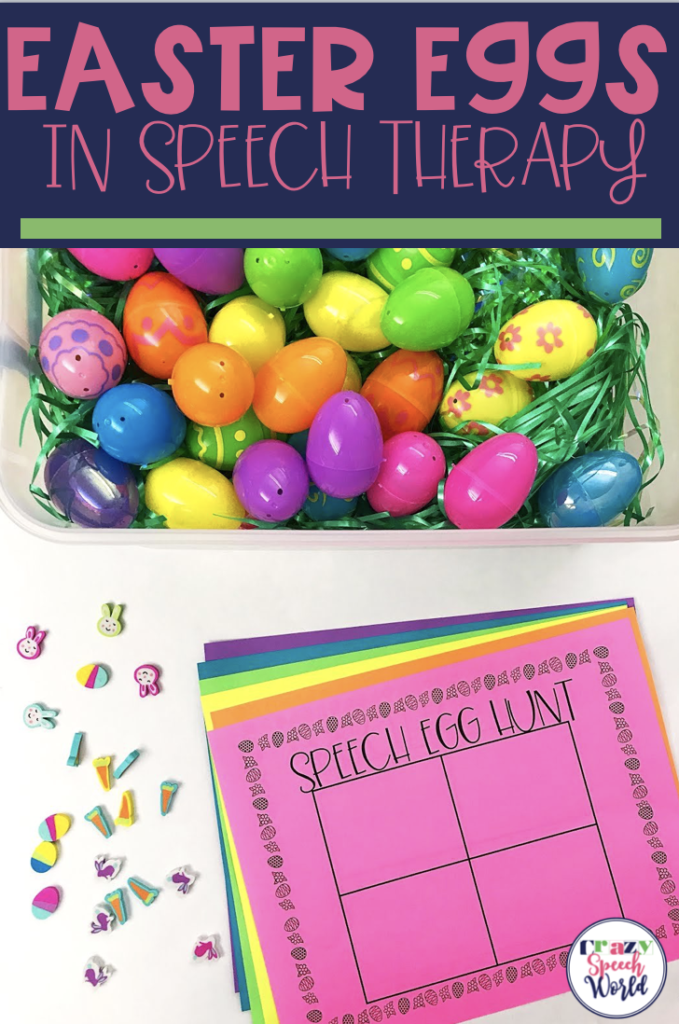 After all these years, I know that kids love plastic eggs. I mean, LOVE. But I also know that I get bored doing the same activities with the eggs each year…I hide, they find. I put artic pics inside, they practice. This year I had another idea that incorporated some fun erasers I had picked up at the Target Dollar Spot and my trusty sensory bin. The whole point of the game is to collect one of each of the kinds of erasers I put in the eggs…but you could really do this with anything you have laying around!
Here's what you need:
Eggs! I grabbed some from Walmart for just a couple of bucks, but you might have some lying around your house or therapy room. Ask other teachers or family/friends to borrow!
A container. I used my sensory bin box and filled it with green basket grass.
Filler. I used erasers with 4 different shapes from Target, but if you don't have those you could do mini objects, pictures, numbered pieces of paper, colored bingo chips, etc.
Here's how we played:
I put one eraser in each egg, keeping in mind that the end goal is to collect each of the 4 different kinds….I kept one of the shapes pretty scarce. I had 30 eggs and only put the egg shaped eraser in 5, then I filled up the rest with the other shapes.
Each student had the Speech Egg Hunt board in front of them. I explained that this was almost like BINGO, they had to fill up each square with a different shape.
When it was their turn, the student would practice their target skill, then pick an egg and open it. If it was a shape they needed, they kept it on their board. If not, they had to put the egg back. First one to all four, WINS!
My kids really had so much fun playing this game! I hope you can use it in your speech room, too!