This post includes Amazon Affiliate links.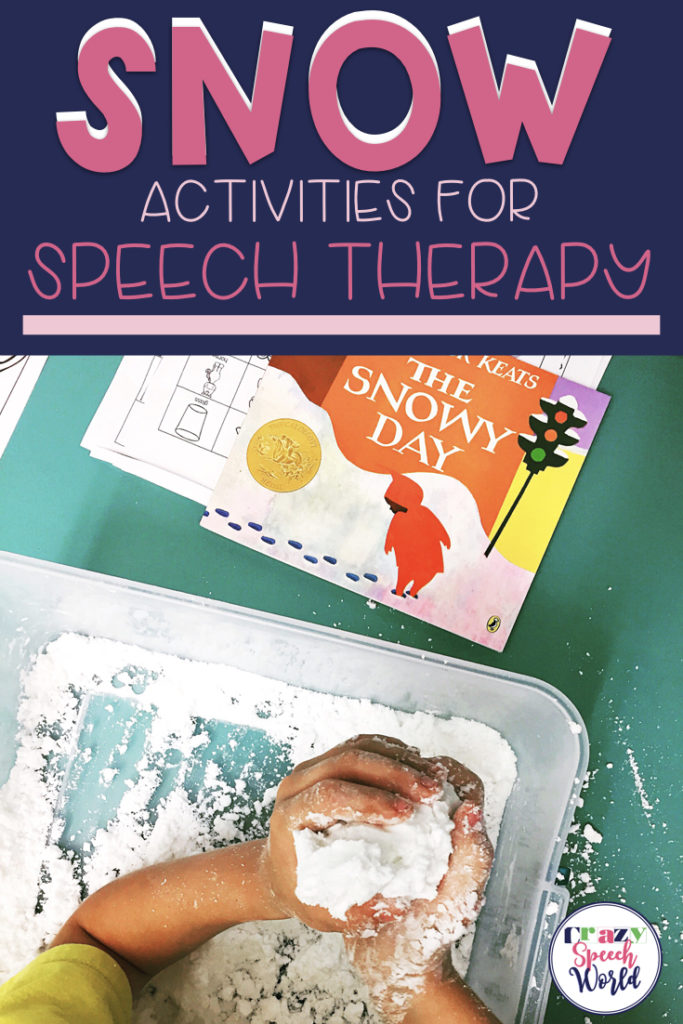 We've been deep in the throes of winter here…at least doing a really good job of pretending since it's Florida and 70 degrees outside.  But you know.  We survive.  😉
I've been enjoying using some of my favorite stories this month…

These books are all great for language AND all involve one thing…snowmen!  Since we have no snow, we don't get to build snowmen, but I wanted to come up with some fun activities that would be hands on, fun alternatives!  And I wanted to do things that were DIFFERENT than previous years.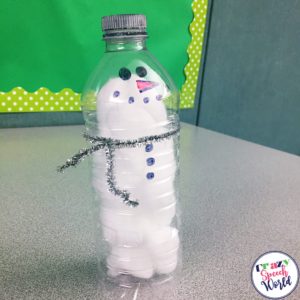 Up first, these adorable water bottle snowmen.  It's really easy and adaptable for your whole caseload!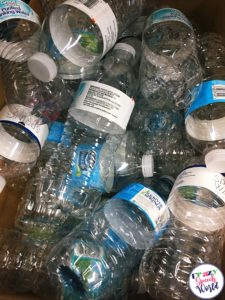 The biggest thing you have to do is gather water bottles.  This was relatively easy for me since my office partner drinks bottled water and saved hers for me.  If your like me and don't buy bottles yourself, send out an email to the other teachers in your building, I bet they would save them for you!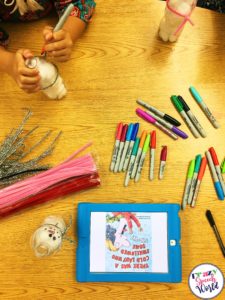 Next gather materials…I had cotton and pipe cleaners and sharpies.  That's it.  That's all they needed and I already had it all on hand in my closet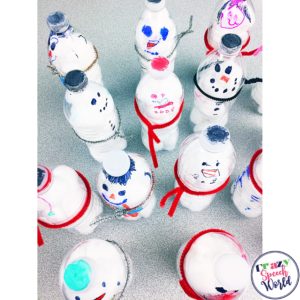 The kids filled their bottles with cotton…which I was able to incorporate some great concepts like counting, less/more, in/out, etc.  Then they added the top back to the top, cause that's the snowman's hat, and then wrapped around the pipe cleaner for a scarf.  Then they drew parts, which we compared the snowmen in the story we read.  So easy and fun!
Another idea I had was to add word pictures to the inside and use with rice rather than cotton to create a shaker bottle.  You could target articulation words or vocabulary.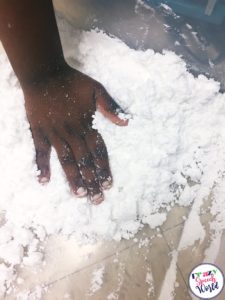 The next thing we did was make our own (great smelling) snow.  This is so easy and your kids will LOVE it!  All you need is baking soda and conditioner.  I literally spent $3 on this activity at the Dollar Store and used it for an entire week with various groups.  You just mix 3 cups of baking soda and 1/2 cup of the conditioner in a plastic container.  
We working on TONS of basic concepts with this 'snow'!  We even made our own tiny snowmen.  In hind sight, I wish that I had gotten some little winter manipulatives to put in the snow too, like maybe polar animals, or snowman parts like sticks and buttons.  But, even without it, this was a GREAT activity that we really enjoyed.
If you need even MORE ideas for the winter theme, make sure you check out my past winter blogs about therapy activities HERE.  This post about The Snowman is one of my favorites and it has a freebie, you can find that HERE.
What are some other snowmen activities you are doing in your room this month?