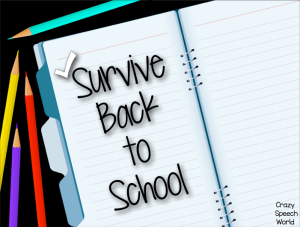 It's been quiet around here and that could only mean one thing…I've gone back to work.  And I'm exhausted.  Can I get an amen?  But I have officially survived preplanning, the first week of school (AKA Scheduling), and the first week of therapy!  All in a new school…which reminded me a lot of my first year of therapy ever.  All new staff, new kids, new rules…it was all a little mind blowing.  Wanna hear about it?  Good, cause I've got a warm cup of coffee and I feel like chatting.  Typing.  You know.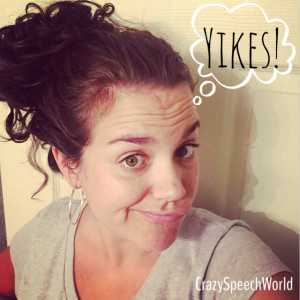 Preplanning Nerves…
I hate being the new kid.  A lot.  I'm kind of shy in situations where I don't know anyone or in unfamiliar places.  So walking in Monday morning to a staff breakfast at a school where I've never worked and the only person I had met was the principal was nerve wracking.  BUT…everyone was so nice.  And I just smiled a lot.  Smiling is important.  People like smiles.  I wouldn't remember anyone's name or half of what was discussed, but that's ok because I am the master of 'fake it till you make it'.  It's an important grad school skill that will carry you through your career.  So for the many of you that are starting at new jobs this year…smile and fake it.  You got this.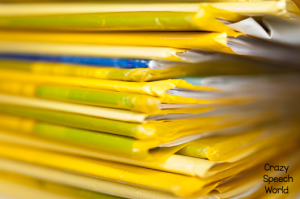 First Week of School…
Oh those precious little bodies that fill up the school and make me smile, even when I don't know them yet, bring life back to the building.  There is something so exciting about the first week of school.  Unfortunately, I spent the majority of that week sitting at my desk exploring files and playing tetris.  Speech tetris = Scheduling.  I left work every afternoon feeling like I got run over by a mack truck.  And I hadn't even started anything yet.  The caseload at this school is MUCH bigger than my last school, despite the fact that their are 1000 less kids.  I am adding two behavior units and PK to my repertoire this year, which is an exciting change.  I spent a lot of time talking to teachers and trying to learn about kids during this week.  The more you know… you know?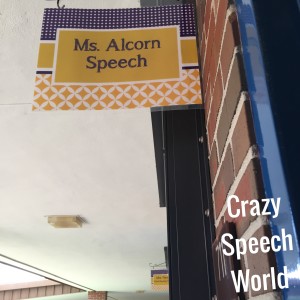 First Week of Therapy…
Wow.  My head is still spinning and it ended yesterday.  Baselines, getting to know yous, lists, lists, and lists.  And more lists.  It was WONDERFUL getting students back in my room.  I worked late planning and learning about these new faces that I am responsible for this year.  And that made me tired, but smiley.  This is what it's all about.  And why I do what I do.  I love being an SLP so much.
Have you gone back to school yet?  What tips do you have to make it go smoothly?