Wooowwweeeee it's been a long time since I did an app review!  But I am super excited to share this one with you guys today.  As SLPs, we work on following directions all the time, whether it's to target listening comprehension, reading comprehension, concepts, or some other language skill.  It's a life skill and it's important!  Speecharoo made this app to target just THAT.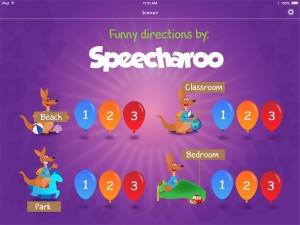 The app is set up to target 1, 2, and 3 step directions in four different scenes:  beach, park, bedroom, and classroom.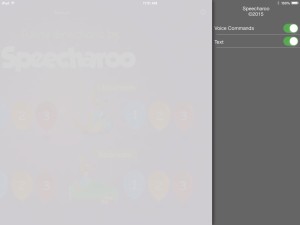 In the settings, you can choose to toggle on/off the voice commands or the text.  It's super helpful to have the option, so you can really target what your student needs…listening or reading.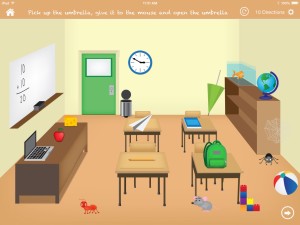 The graphics are simple, bright, and engaging.  The various objects wiggle and move around the screen when you follow the steps correctly.  If you don't follow it correctly, it repeats the command (if the voice is on) and the object you moved goes back to it's original position.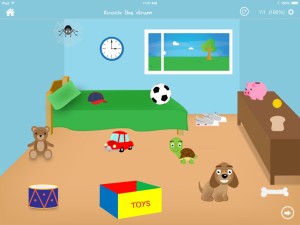 The app keeps track of the progress in the upper right corner with there being 10 targets per skill (1, 2, and 3 step).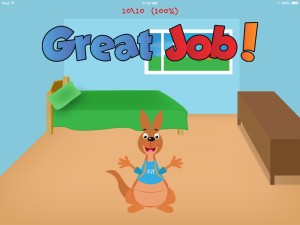 When a child finishes the set of 10, Kit the Kangaroo comes on and there is a balloon popping reinforcement game.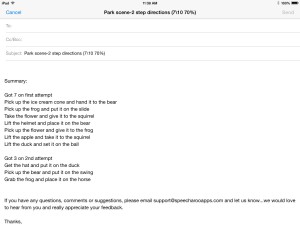 You also have the option to email the results.  The app does not store this information within itself.
What I love:
Bright and engaging graphics and animations…there will be some giggles with this one and I think it will be reinforcing to play
Targets multiple step directions
Ability to turn text or audio on/off depending on what your students need
Detailed information about performance in the email feature, so you can determine error patterns
Low cost
What I would like to see:
Multi player use…since I work mostly in groups, it would be difficult to differentiate for each student without this feature
Data storage…if I don't email it, I lose it.
Option to turn off animations…while this will be very engaging and entertaining for some students, it will also be a big distraction for others.
Overall, I definitely recommend this app!  I think it's a great addition to my therapy toolkit!  You can find it in the iTunes store HERE.
I also have one code to giveaway to one of YOU!  Woot!  Enter via the Rafflecopter below and Good LUCK 🙂
A copy of this app was provided in exchange for my review.  The opinions in the review are mine.