I have another Smarty Ears review and giveaway for you guys this week…today we have Preposition Remix!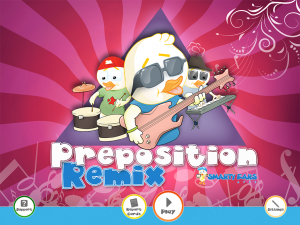 Preposition Remix is designed for single player use to help students master prepositions and following directions.  From the main page of the app, you can access Support in the lower left corner.  Here you get access to a few things…support, more apps, backup/restore, but most importantly the video tutorial and an About section (a written summary of the app).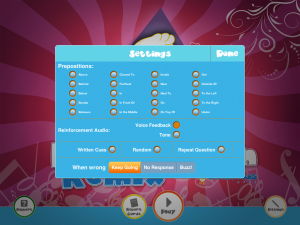 In the bottom right corner of the main page, you can access the Settings.  Here you can select the prepositions to target, choose reinforcement audio, turn on/off the written cues, randomization, and repeating questions.  You can also choose how the app will respond when the student answers incorrectly: keep going, no response, or a buzzer.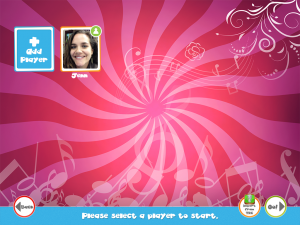 Once you have chosen your settings, you are ready to get started.  You can easily add a player using included avatars or your own photos.  You can also import players from the Therapy Report Center.  Choose your student and hit GO!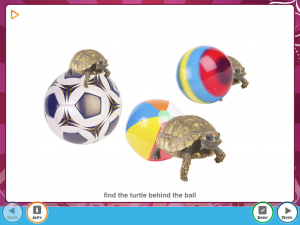 The app then shows a picture and reads a prompt.  For example, this one says "Find the turtle behind the ball." and you have to touch the correct picture.  If you have repetition turned on, the student can press the play button in the upper left corner to hear the prompt again.  If you have the written cues turned on, the text is displayed across the bottom.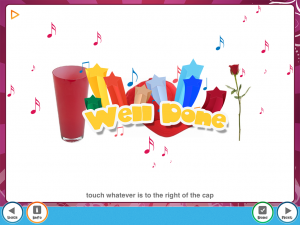 If the student is correct, there is a mini celebration on the screen, then the app automatically continues.  You can also go back to the previous picture or go to the next via the buttons at the bottom.  Anytime during play, you can hit Done to exit.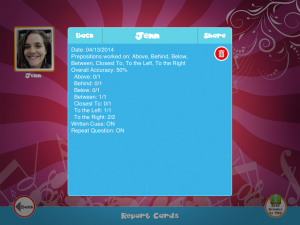 The app collects great data with overall accuracy, plus details for each preposition targeted and whether or not the cues are on or off.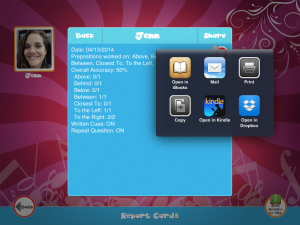 You can easily share this information by email, print, dropbox, etc.
Overall I liked Preposition Remix…Quick and to the point, my little guys loved it.  Only thing I would change is to add a multiple students option since I work in groups most of the time.  Keeps great data and I could certainly use for progress monitoring of students skills in this area.
Preposition Remix is available in iTunes for $9.99…BUT I have 2 copies to giveaway!  You can win one by entering the Rafflecopter giveaway below!  WOOT!