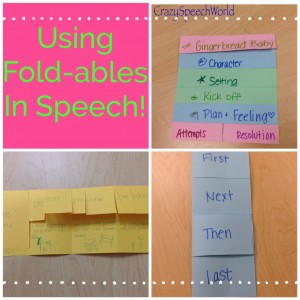 I heart fold-ables.  You can use them for anything!  They also feed my need for cutting things and semi-crafty.  I say semi, cause if I told my older kids that these were crafty, they probably wouldn't enjoy them as much as they do!  Here are a few of the different kinds I have used…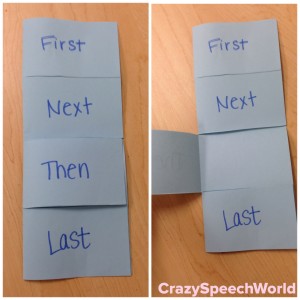 This one is SO basic and easy!  I just fold into eighths, then unfold.  Fold in half again and cut on the lines to the midline.  Then you have 4 flaps!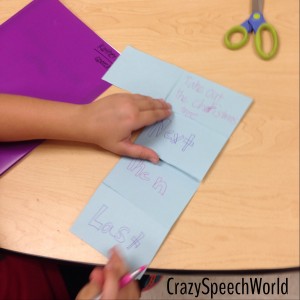 You can definitely use this for just about anything, but I like to use it for sequencing, retell, narratives, or transition words.  It really works perfectly!  They write the transition words on the outside, then lift the flap to write what goes on that step.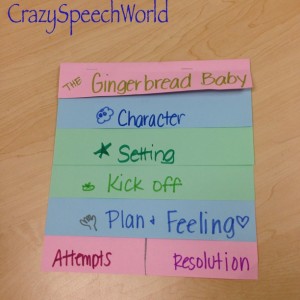 This one is a little more complicated, but not really.  First, I keep trying to type directions and they don't make sense.  So, I'm sorry.  But you basically take three sheets of paper, stagger them about one inch, then fold them over to get the book and staple at the top.  This is an example of how I paired it with the Story Grammar Marker!  You could also use it for parts of speech, social skills, vocabulary, etc.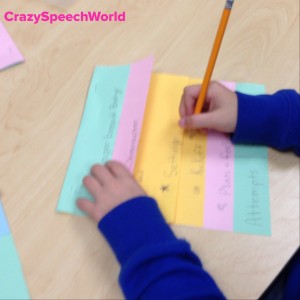 We used it in addition to Braidy to identify all the parts of a story!  Now, they have this great reference page that they can use in their classroom to help them with retells…since I can't afford to give everyone a Braidy to keep!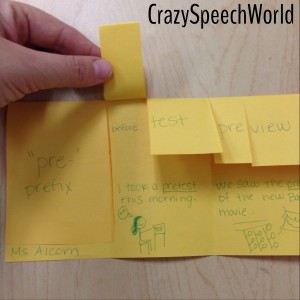 This last one is probably the most complicated one.  I won't even try to tell you how to do it.  I found it on Pinterest HERE.  She gives better directions than I could.  Maybe.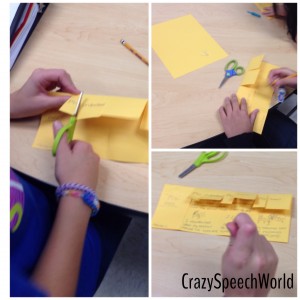 I used it to target prefixes with my middle grades kids.  They really liked it!  I feel like, the more complicated the folding and cutting is, the more they like it.  I could be wrong.  But they enjoyed this session, and I can't say that all the time.
I hope this gives you some new ideas to use with your older crowd!  Do you have any fold-ables you like to use?  Share your ideas with me, I'd love to hear them 🙂