Last weekend, I was sick…I didn't move off the couch y'all.  It was rough.  This explains why the blog has been so quiet this week.  I was drained of all energy… it took everything I had just to make it through the work week.  So needless to say, I went into the week with little plans.  Luckily for me, we had professional development day on Monday so there were not any children to therapize.  It gave me some extra thinking time.  Where do I start when I do not know what to do?  My books.  That's where I rediscovered this gem…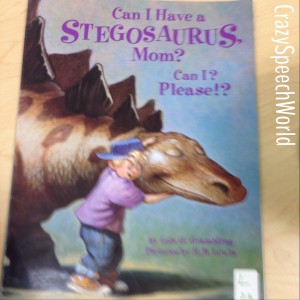 Can I Have A Stegosaurus, Mom?  Can I?  Please? by Lois G. Grambling is a super cute story with a fun twist in the end.  It has great vocabulary, so I was easily able to incorporate synonyms, antonyms, and shades of meaning in my therapy.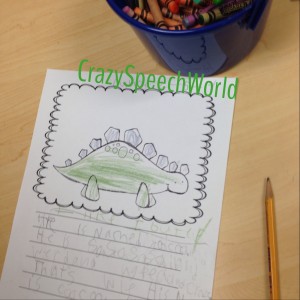 I also whipped up this little worksheet for some of my kiddos working on describing and syntax.  They colored their very own stegosaurus, then wrote some sentences to describe him.  They really loved talking about all of the things they would do with a pet dinosaur!  You can grab the freebie HERE.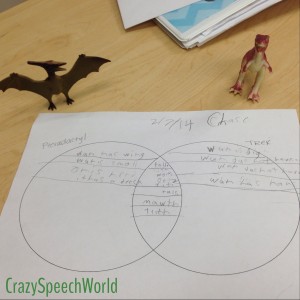 I just happen to have a huge bag of plastic dinosaur toys, so I pulled those out for a compare and contrast activity.  We used just a basic Venn diagram.  I modeled one on the board by comparing the stegosaurus and T-Rex in the book, then they chose two of the toys to compare and contrast on their own.  It was great for working on similarities and differences, but also for describing attributes and adjectives.
Overall, dinosaurs were a big hit with my students!  BUT, I didn't get a chance to use even half of my ideas.  SO, we are going to use this theme again next month to include some projects I have been working on.  Can't wait to share what's up my sleeve 🙂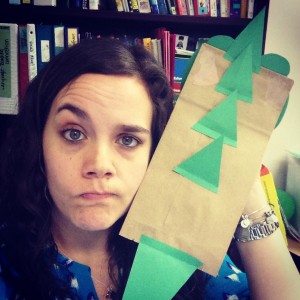 Do you use this book?  What kind of  dinosaur activities are your favorite?