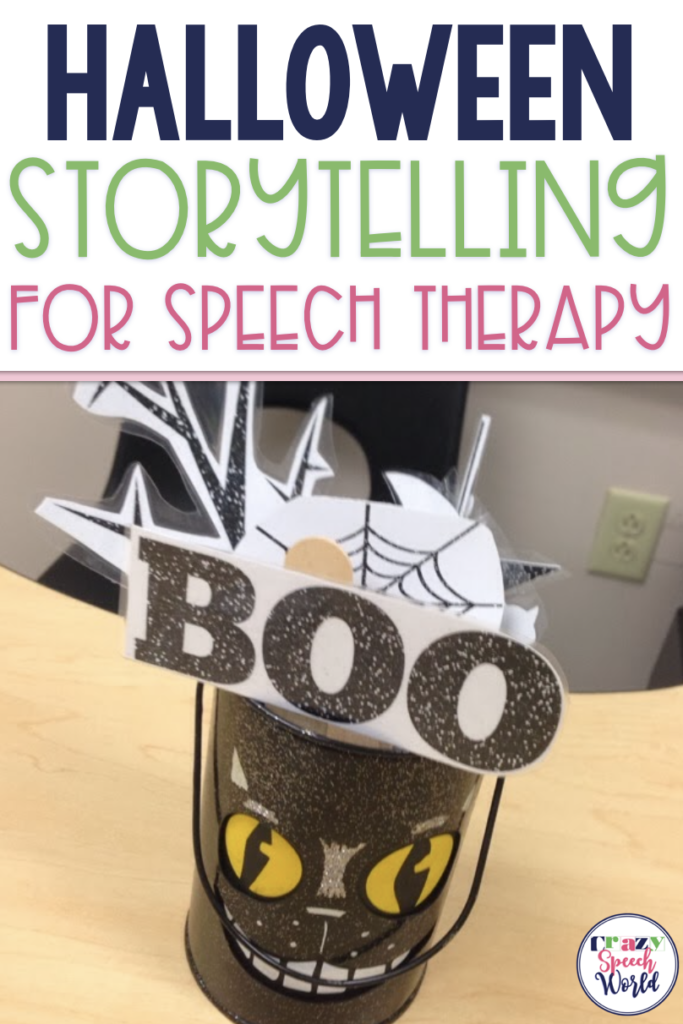 A few weeks ago, I got the awesome opportunity to attend a Story Grammar Marker workshop…if you get this chance, go ahead and hop on that train.  It was an awesome experience!  And now I have a little speech world full of SGMs!  We have been using them a lot of learn about the story elements, or macro structures, of narratives and retelling what we have read.  So this week I decided we were gonna start telling some of our own stories with those bad boys!
First thing I decided to do was to have all of these pictures available to them to help visualize some of their story elements.  Since this week is Halloween, I just used some clip art I had, cut it all out, and laminated.  Then I grabbed some double sided tape and sticks.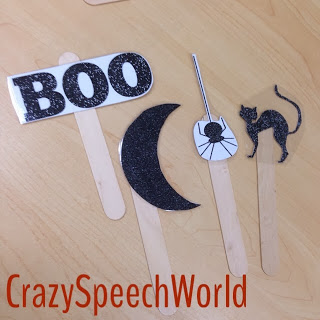 I put one picture on the end of each stick with the tape…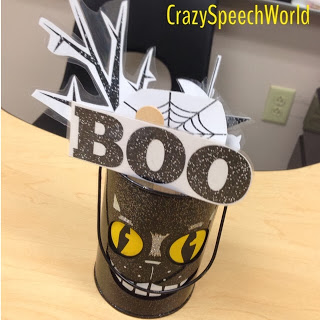 …and stuck them all in my fun cat bucket.  This cat bucket is fab,  I use it for tons of stuff and I have zero clue where it came from!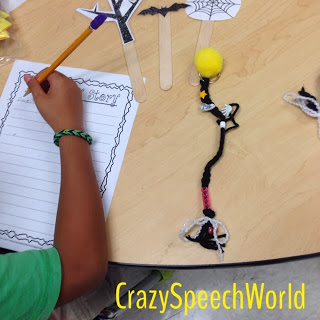 Now comes the fun part!  First, we talked about the pictures on each stick and about whether it could be a character, setting, or kick off.  Then, I let them each choose three.  One had to be each of those elements.  They each had their own student SGM strand to help.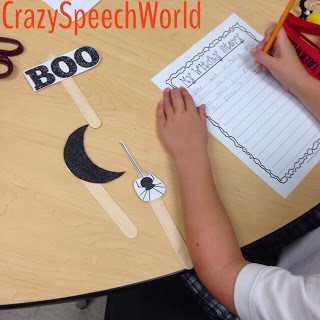 Then I grabbed the writing page from my Witch Craftivity and they got busy!  They wrote and wrote and wrote..this activity took two thirty minute session.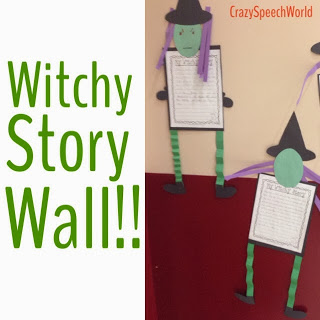 When they were done writing and editing, they made their witch!  And all these lovely little stories are hanging on the wall outside my room!!!  I love them SO much and the kids really loved the activity!  I can see more of this in our future…gobble, gobble anyone?!?!
What do you think?  Do you have any creative ways to help your kids work on narrative skills?