This post contains Amazon Affiliate Links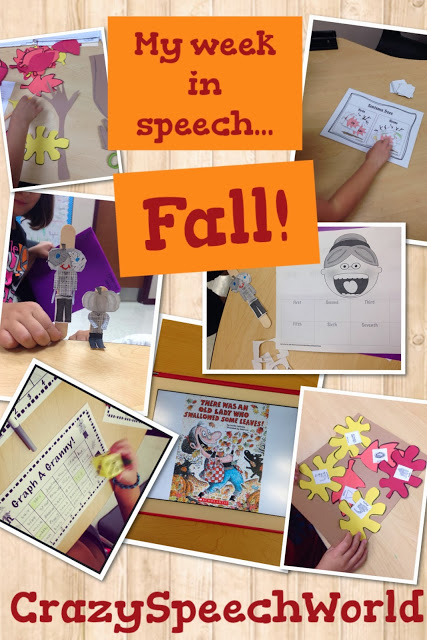 So this week was all about the lovely fall season in my speech room…too bad that nothing about our weather screams fall.  I actually happen to love that I live in Florida, where the weather doesn't have drastic changes.  I don't like cold weather, so I am all for prolonging the 80 degree weather!  I do miss out on some pretty cute fashion…but everyone has sacrifices 🙂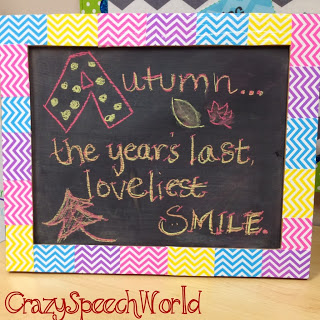 So my chalkboard quote this week was this one by William Cullen Bryant.  I love that my kids are interested in these quotes each week and we spend a few minutes talking about them.  It is great language practice because you can break it down by whatever you want…we had conversations about this one related to the vocabulary, morphemes, and inferencing…just figuring out what the quote  means is a good mini lesson.  LOVE doing this!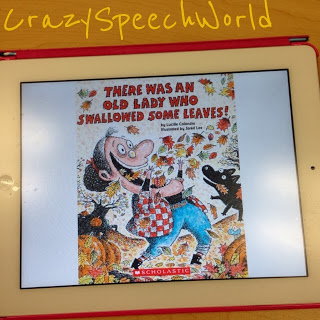 Next, I used the digital version of There Was An Old Lady Who Swallowed Some Leaves by Lucille Colandro.  I like using my iPad to read books sometimes…and the kids always like it!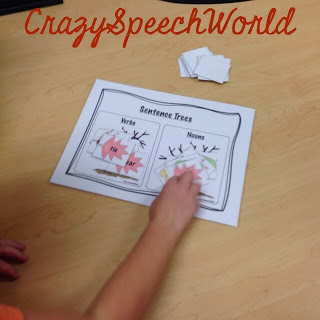 Most of the activities I did were from my Old Lady packet, which you can find in my TPT store.  For some of my first graders, we did the Sentence Trees.  I had a big pile of leaf cards that were both nouns and verbs and we sorted them to the right tree, and made sentences.  I was able to target plurals and verb tense with this one, which is a goal I feel like I am constantly working on with my primary kiddos.  I had some blank leaves that they were able to add their own nouns/verbs, which was fun.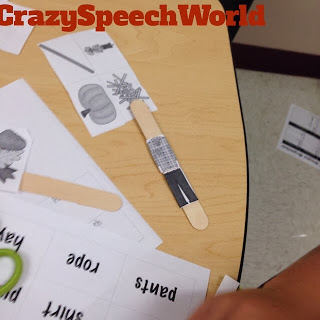 I have a group of third graders working on narrative skills and so I planned on having them just do the story retell but then had a stroke of genius…we made mini pumpkin scarecrows on tongue depressors!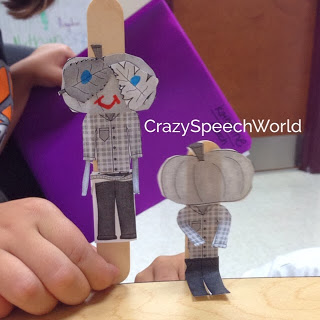 They turned out SO cute!!!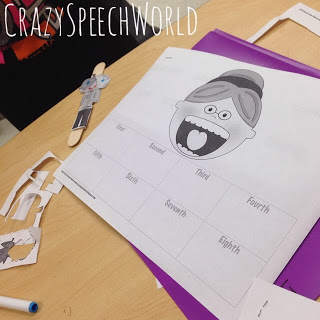 They used their scarecrows to retell the story and were able to take them home for more practice 🙂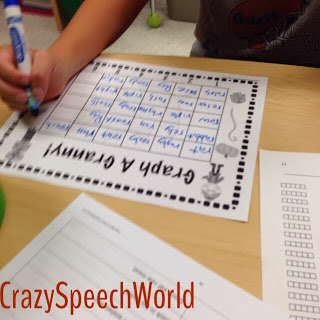 The last Old Lady activity we used was Graph A Granny!  This download includes dice games for each of the Old Lady stories.  I had my intermediate artic kids write their speech words in the boxes, then we played!  It was a great activity for them and they took it home for homework!  You can find Graph A Granny in my TPT Store.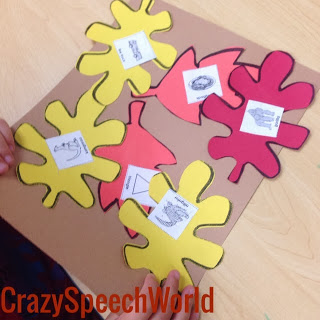 With my PK and K artic kids, we did leaf collages with their sound pics.  We just grabbed their artic bucket and glued those to the leaves, then the leaves to the page.  Perfect for take home!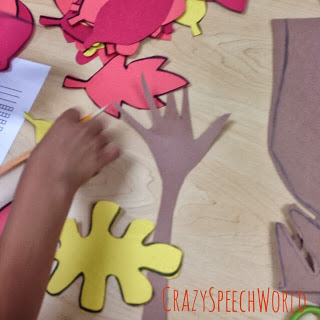 And trees with their hands.  This was an activity I used last year and the kids always like it.  You can use this for language or speech goals and they always make really cute trees.  Check out my post from last year HERE, which includes some freebies and other ideas!
That's about it for the fall themed activities!  Have you used any fall themed activities yet in your speech world? I'd love to hear about them!