This post contains Amazon Affiliate links.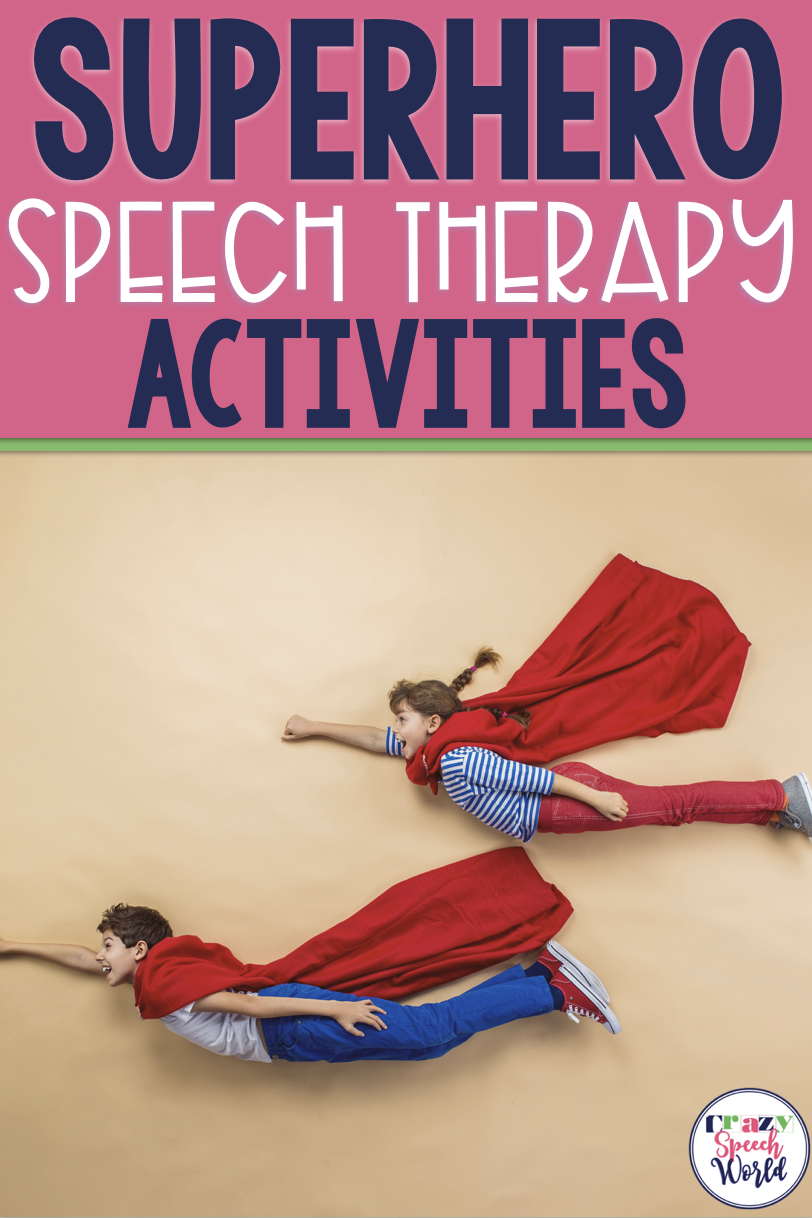 I don't know how I skipped superheroes last year, but trust this…I will never skip it again!  We had a FABULOUS time the past two weeks!  Yes, I skipped football this year to opt for more time with the heroes and it was a great decision.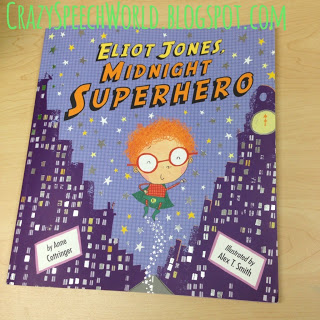 Haven't heard of this book?  Yeah, me neither, until I went searching for one over the summer for this theme.  I am so excited to report…this is a winner!  GREAT BOOK!  Eliot Jones is a quiet little boy who becomes a superhero at night!  He tames lions, finds the queen's stolen jewels, and saves the world.  He's pretty great.  My kids were wide eyed and completely awed with this story.  There was great vocab and pictures for describing.  Lots of good discussions happened.  I let the kids write their own stories about a what super adventure they would go on if they had super powers.  It was awesome!  I totally recommend this book.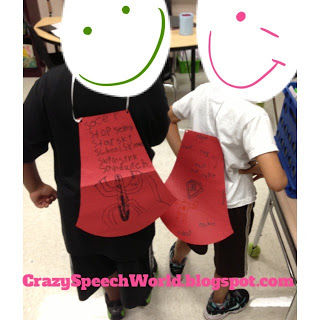 We made superhero capes for our craftivity, which you can read about HERE.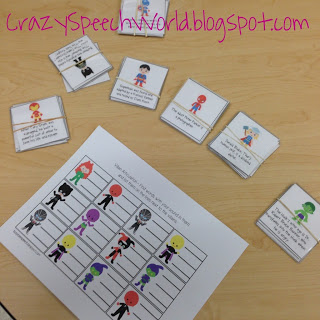 For my older artic kids (3rd-5th) we made lists using some other great materials.  K Ratliff has these fabulous superhero cards, that have facts about 7 different heroes….for FREE!  You can download them HERE.  I combined that with this villain artic page from Busy Bee Speech's Comic Book Companion, which you can see HERE.  The kids each got the villain page, then chose one hero.  They read the cards and found all the words that had their speech sound and wrote them on the lines.  I challenged them to fill up the whole page, and most of them did!  And not just did it, but did it happily! P.S. Lauren's Comic Book Companion is AH-mazing!  I have used it a ton so far, for lots of things that had nothing to do with comic books!  Lol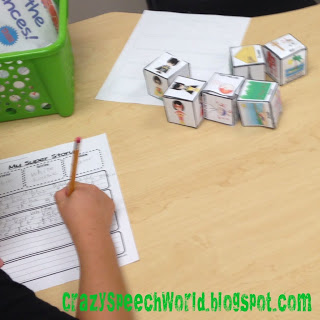 We did lots of narrative practice with the Story Telling Dice…again, the kids were stoked to write!  I couldn't believe it.  This will be an ongoing activity for one of my groups!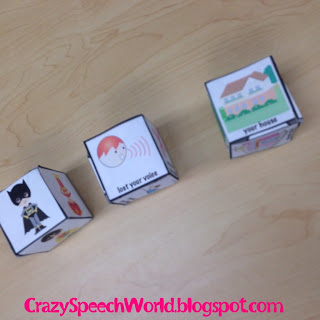 We also rolled the dice and did oral narratives, both independently AND with each person rolling one of the dice and then the group worked together to tell a story.  This was good for one of my pragmatic groups who are working on taking turns!   Expect to see lots of these dice from me in the future, I got lots of use out of this set!  You can find the Superhero Dice in my TPT store!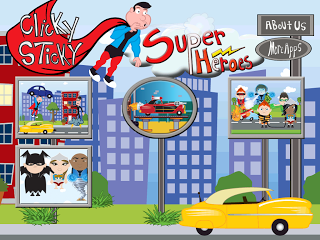 I used Clicky Sticky Super Heroes on the iPad this week too.  I love this app anytime of year, but it tied in especially nice for this theme.  You can use this app series for so many goals, they are good to have on hand!
Other things I didn't get to snap pictures of?
-We got TONS of plural and past tense practice with my Save the Sentences packet.  I used this tons too, so I will probably be making more of this type of resource with different themes.  You can find it in my TPT store.
-Superhero speech cards!  Late Sounds and Early Sounds!
-And last, but definitely not least…CC's fabulous Super Social Skills packet.  This thing is the bomb and I will be using it with my social skills groups all year.  You can check it out HERE.
HOLY THERAPY IDEAS, BATMAN!  You could seriously do superheroes for a month.  Or two.  We had a great couple of weeks…but I have to move on.  Why?  ARRRRGH!  Pirate Week is coming 🙂
Did you do any superhero therapy activities lately?  Got more ideas?  Share with me!