With the start of a new year, I am always thinking of ways to collect better data…whether it be baseline, progress monitoring, or assessing new students.  I love the idea of using my iPad to do assessments, so when Smarty Ears shared their latest, Basic Concepts Skills Screener, I was excited to take a look!  They gave me a free copy of this app to review for you guys, as well as a copy to giveaway!  All opinions in this review are mine and no other compensation was provided.
The Basic Concepts Skills Screener (BCSS) is a designed to assess a student's comprehension of basic concepts and provide information to drive intervention targets.  It includes words related to spatial, quantitative, comparative, and temporal concepts.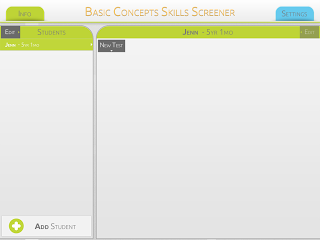 This is the home screen for the app.  You can see that there are Info and Settings tabs in the top corners.  All of your students will be listed on the left side, and whichever student is selected, their data will be on the right side.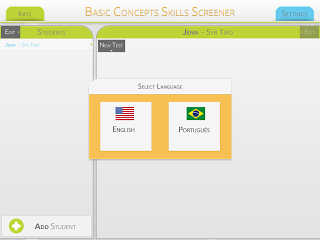 This app is also loaded with Portuguese, as well as English, which you can change in the Settings tab.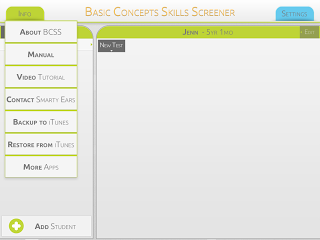 In the Info tab, you will find information about the app, a manual, video tutorial which you should all check out prior to administering to a student.  You can also backup to/restore from iTunes here.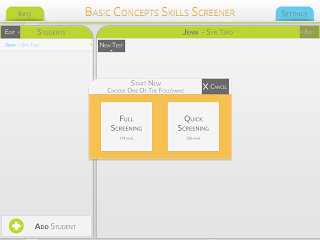 There are two assessments included:  A Quick Screening and a Full Screening.   The Quick Screening includes 30 targets and takes about 5 minutes to administer.  The Full Screening includes 79 targets and takes about 10-15 minutes to administer (according to the manual).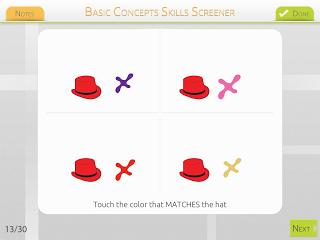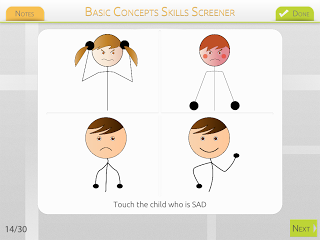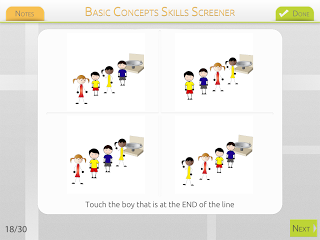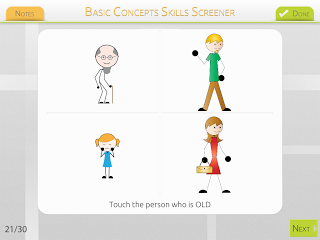 Here are some screenshots of different concepts on the screener.  For each question, you can take notes with the tab at in the top left corner.  There is a question counter in the bottom left, so you know how many questions are left in the screening.  You do not have to count responses correct/incorrect, as the app does that for you.  It does not go to the next item until you press the Next button, which is good for discussing concepts at an expressive level, if desired.  You can quit the screener at any time by tapping the Done tab in the top right.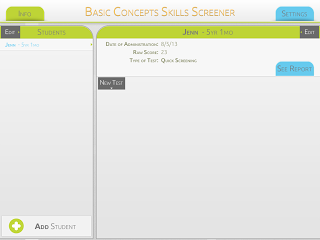 Once you complete the assessment, you can see the results on your main page.  Any assessments give to the student would be listed here and you can access the results by tapping See Report.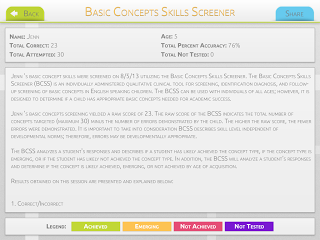 The report is great.  The beginning is a narrative, giving information about the BCSS and raw scores, including a percentage of accuracy.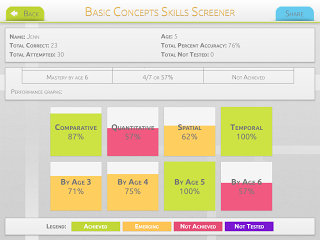 The bottom half of the report lists the correct vs. incorrect responses, as well as by type of concept and age of mastery.  (Note: Age of mastery ranges is based on a median from available resources).  I like the way it gives a color coded results in a graph form.  This is easy to read and interpret for teachers and parents.  You can print, email, or export the report to Therapy Report Center.
Overall, I am loving this!  I think this will be a good way to establish a baseline and monitor progress for students who are working on concept goals.  The app is super easy to use, I like the straightforwardness of it.  No fluff, it gets right to the point.
I do wish there was an expressive component and the age of mastery for the concepts isn't completely clear.  I would like to see a list of the concepts by age of mastery.
You can find this app in the iTunes Store for $14.99 (at the time of this posting).
Enter the Rafflecopter below if you want to win a free copy!!!