Another app review?  Sure!  Today I've got Smarty Ears new app, Phono Learning Center for you guys.  I was given a free copy of this app to review and one to giveaway, but all opinions in this review are mine!  Ready for the party?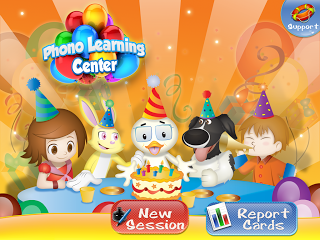 This app is based on Hodson's Cycles Approach to Phonological Therapy, which is really fabulous for implementing EBP but also different from anything else available (to my knowledge) for phonological based apps.  If you don't know much about this approach, Caroline Bowen's website has a nice breakdown of it HERE, as well as a reference list with resources from Hodson available.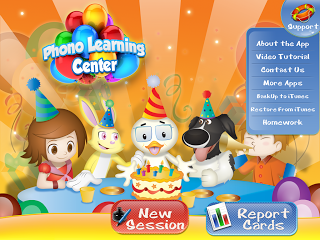 When you first open the app, this is the home page.  In the upper right corner is the Support, where you can watch Barbara's video tutorial…you should watch this first.  You can also read about the app, contact Smarty Ears, see other apps, backup or restore to iTunes….and….HOMEWORK!

 You can choose from any of the pre-made templates to email or print and send home with your students!  Awesome!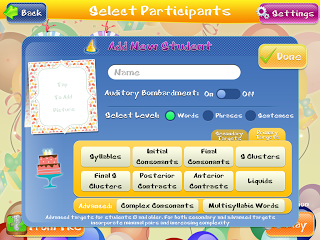 Next, you need players!  To add students you click New Player from the main menu and then Add Player.  You can also import from Therapy Report Center, I use this and highly recommend it.  However, if you do import from TRC, you must make sure you go back into the students profile to add a target goal.  When you add a student, you set up their targets, level, and choose to use auditory bombardment or not.  The targets are broken up by Primary, Secondary, and Advanced.  If you choose to keep Auditory Bombardment on, it is important to note that that feature will only be presented if you are working with one student.  So if you are working with a group, it doesn't show up in game play.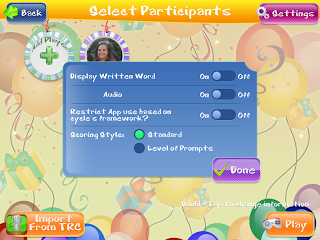 Once you have your student set up with their goals, you will choose your settings, in the upper right hand corner of the Select Participants page.  Here you will choose whether or not to use written word display, audio, restrict the app based on cycle's framework, and scoring style.  I really love all of the options available and how I can customize it based on my student's needs and my preferences.  Now you are ready to play!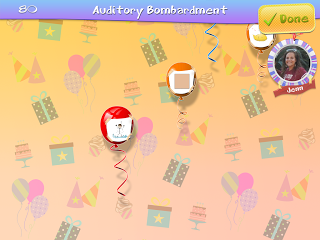 For the purposes of this review, I left it on one player so you can see the Auditory Bombardment game.  Balloons float up the screen and the student is to 'pop' them by touching them.  Once they do, the target picture is shown and the audio presented.  Students earn a score at the top for the number of balloons they hit.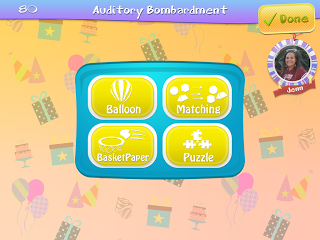 Once you finish with the Auditory Bombardment task, up comes the game menu.  There are 4 games to choose from to work on the student's goals:  Balloon, Matching, BasketPaper, and Puzzle.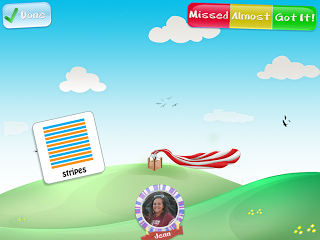 For the Balloon game, students will say the word, then slide the word tile over to the balloon.  The more targets they complete, the bigger the balloon gets!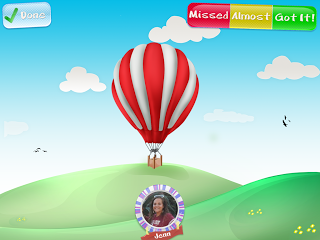 When they complete the word list, if flies away!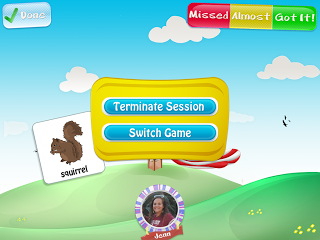 At any point, you can click Done in the upper left corner and you will be prompted to either terminate the session or switch the game.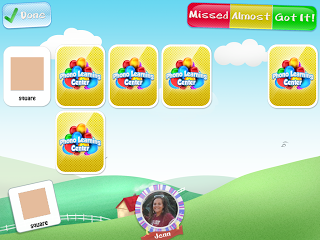 Next game is Matching!  The student has a target card, and they try to find the match among the face down cards.  As they find the matches, the cards disappear until they are all gone.


BasketPaper is an fun twist on basketball.  The target word is presented on a piece of paper.  Once the students says the word, they crumble it up by tapping the paper, and then 'shoot' it in the goal by sliding it toward the goal!
If you are playing with multiple players, each player will be along the bottom and you switch between them by tapping their photo or avatar.

Once you have finished all the games, you can see progress in the Report Cards, accessed from terminating the session, or from the main menu.
Since it is summer, I didn't get a chance to try this app with any of my students, but I can imagine that it will be a winner.  I can see some of my kids loving the variety of games that are offered…and BasketPaper will probably be a big hit!  I love the Cycles approach being used within the app.  There are many options to customize, which is always helpful when you work with a wide variety of students/clients.
You can find Phono Learning Center in the iTunes Store for $24.99…but we are so lucky because I have a copy to giveaway to one lucky reader!  Enter below via the Rafflecopter and good luck!