This post contains Google Affiliate links.
I'm enjoying bringing you guys some of my favorite therapy tools each week!  Here is another favorite…


I have few things that I get TONS of use out of…but this is definitely one!  I bought Auditory Memory for Quick Stories by Super Duper on a whim a few years ago.  I had gotten a classroom computer and wanted some software my students could use to work on language goals with.  I didn't realize how versatile it can be, but I am sure glad I got it!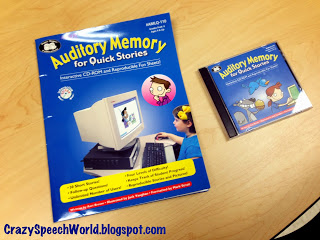 First of all…it includes software.  I can pop it into the computer and students can listen to one of 30 narrated stories with 4 varying levels of difficulty, then answer 6 follow up questions about the story they heard. This is great for monitoring progress for listening comprehension.  It is one of my 'go-to' progress monitoring tools for students in language interventions for Response to Intervention (RtI) programs.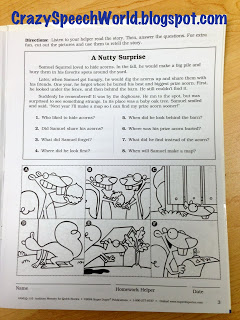 But on top of having the software, it also comes with a book of all the stories, questions, and pictures for retell.  WHAT?!  Yup.  They are also on the cd, so you have them electronically.  You can use these instead of the computer for progress monitoring OR they make great homework sheets!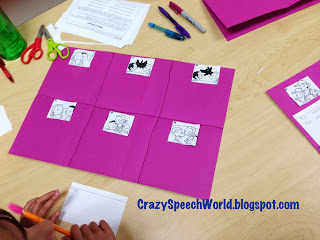 But wait!  There's more!  I love using the retell stories at the bottom of the pages by themselves for my kids who are working on narrative goals.  This is an activity we did last week…made a storyboard with a large piece of construction paper (11×17) with 6 squares.   They cut out the pictures and put them in order on the board.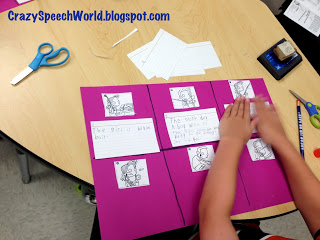 Then I gave the index cards and they made their own story to go with the pictures!  We worked on so many goals in this one activity…vocabulary, sentence structure, retell, sequencing, transition words, etc…. it was AWESOME!  Last I gave them the original story and we compared and contrasted their story with the original.  It was 3 sessions worth of therapy using one of the stories from this book!
Check it out over at Amazon…
Do you have this in your therapy closet?  I would love to hear how you utilize it!

This post contains Amazon Affiliate links.