I have a great app to review for you guys today…Fun & Functional by Smarty Ears!  Fun & Functional is an app designed to target comprehension and use of everyday vocabulary.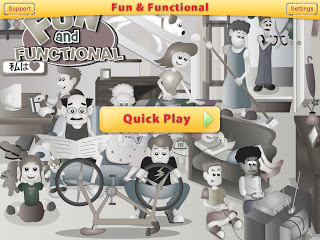 This is the home page of the app and what greets you when you open it.  There are buttons at the top for Support & Settings, and the Quick Play button in the center of the screen.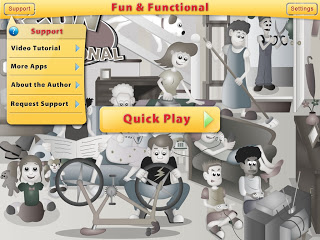 When you click Support, you have the option of watching a video tutorial, seeing more Smarty Ears apps, reading about Rosie Simms (app author), and requesting support to Smarty Ears via email.  I always watch the video tutorial first!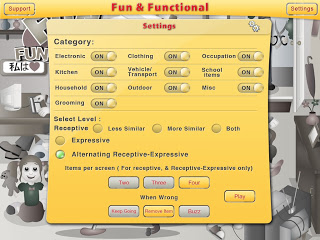 If you click into the app's Settings, up pops the menu.  As you can see, there are 10 categories to choose from:
Electronic
Clothing
Occupation
Kitchen
Vehicle/Transport
School Items
Household
Outdoor
Miscellaneous
Grooming
You also have the option to use receptive, expressive or alternate between both.  For receptive language , you can choose if you want answer choices to be less similar, more similar, or a mix of both.

For answer choices, you have options from two, three, and four items per screen.  When students make incorrect choices, you can have the app just keep going, remove the item, or buzz to indicate they are wrong.  Once you make all of your choices, you are ready to play!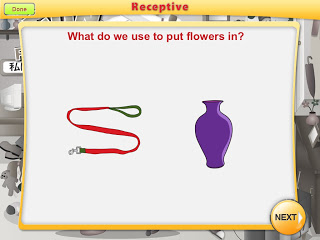 For receptive language, the app asks a question and the student must choose the correct picture that answers.  If your students needs to hear the questions again, they simply tap it and the app repeats the question.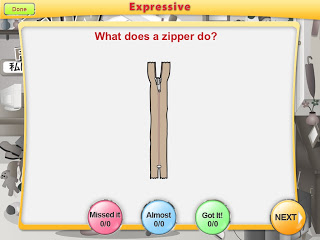 For expressive language, the app reads the question, but the SLP (or parent, teacher, etc) scores it.  There are three options:  Missed it, Almost, and Got it!.  There is no ending, the app will just continue to present the questions until you tap "Done" in the upper left corner.
In the Quick Play option, the app automatically has 4 answer choices for the receptive tasks, and alternates between receptive and expressive questioning.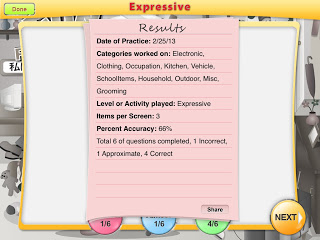 Once you tap Done, up pops the results screen from the session.  It is a pretty thorough report the app gives you.

To save the results from a session, you can tap Share and email, print, or open the results in Therapy Reports Center.  If you tap Open in TRC, you can assign the data to any of your students you have stored there.
Overall, here are my thoughts…
What I like
Functional, just like the name!  Tons of everyday objects in this app to help kids with vocabulary development.  I can use this with so many of my students!
Builds category knowledge, answering questions, and describing skills
Easy to use
Expressive AND Receptive
Levels of difficulty for receptive language
Data collection
Compatible with Therapy Report Center
What I would like to see
A multi-player option.  I could use this with a group, but then the data isn't valid because I have used with more than one student.  Unless you are working 1 to 1, you wouldn't be able to export to TRC, which is a feature I really like.
Data storage within the app.  If I don't share the results immediately at the end of a session, the data is gone.  
In the grand scheme of things…I like it!  I would definitely recommend it to an SLP who needs to work on basic and funcitonal vocabulary.  You can find it in the iTunes Store for $9.99.
I was given a copy of this app to review, no other compensation was provided.