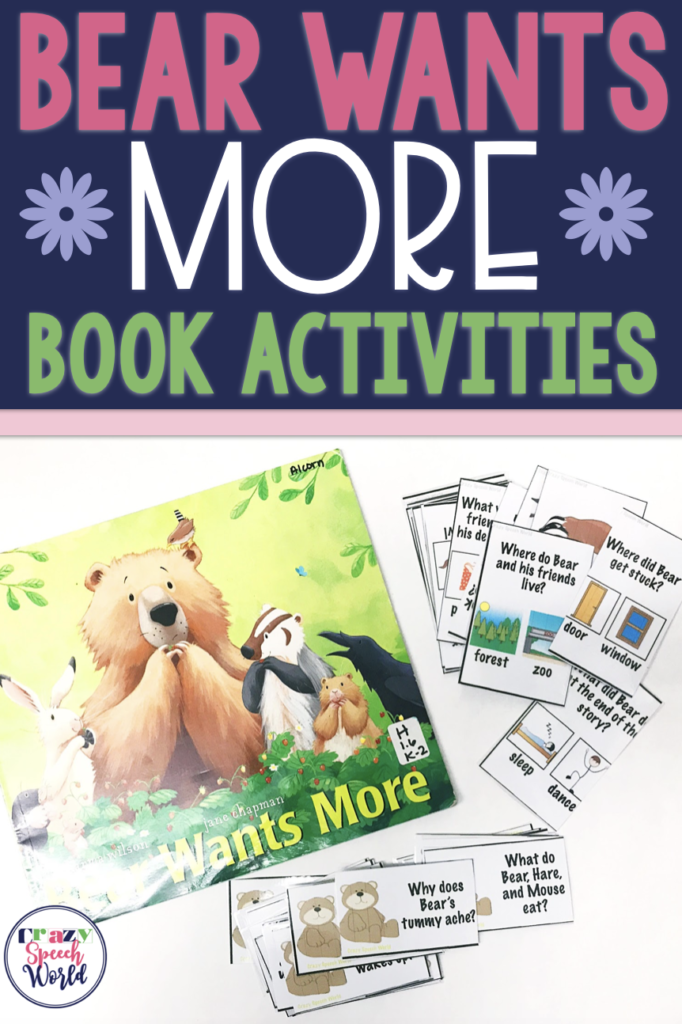 Raise your hand if you are ready for spring!  Both my hands are up!  This Florida girl is over the cold weather and ready to stick my toes in the ocean 🙂  Until that time comes, I have started working on spring activities for my speech room.  First on the list…another wonderful Bear book…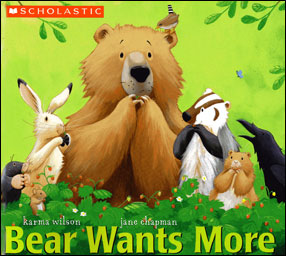 Bear Wants More by Karma Wilson and Jane Chapman is another one of my favorites.  I love these books (in case you couldn't tell by my other Bear book companions!)  This one is the story of when Bear wakes up from hibernation in spring and he is HUNGRY!  If you don't have this one in your collection, I definitely recommend it!
First activity is Bear's Pairs, to target rhyming.  There are 32 cards with words from the story that rhyme.  You can have your students do a matching activity, play memory, or Go Fish!  I also included 12 blank paws.  You can use these for having students come up with additional rhyming pairs OR for speech words, parts of speech, etc.  Anything!
Next are Comprehension Questions, which I made 2 levels for.  Level 1 includes 15 cards with 2 answer choices, paired with pictures.  There are 23 level 2 comprehension cards to cover who, what, when, where, and why questions.
Next activity is Category Feast, an activity to work on sorting food groups.  You have the above sorting mat, which you can print one for the group or one for each student.  There are 5 food items for each category for the kids to sort.  You can mix them all up and have the students take turns sorting, or you can give them their own pile of cards to sort.
Next is a Sentence Strip that you can use for lower level or nonverbal students.  Every item that Bear eats in the story is on the bottom row.
Sequence the Story is activity for students to work on sequencing skills.  There are 12 cards and each has an event, paired with a picture.  Once students finish sequencing, they can retell the story.
Next activity is What's That Mean?, to target word meaning.  There are 8 cards with a sentence, one underlined word, and 3 answer choices.  The student or therapist will read the card, then students will choose the correct word meaning.
Sleepy Synonyms targets one vocabulary word from the story and a synonym for it.  There are 9 pairs included, you can play matching, memory, or Go Fish!
Then we have Bear Wants Verbs! to target verb tense.  Use the above sorting mat and print one for the group or provide one to each student.  Students will practice using the verbs (below) in sentences for past, present, and future tense.  There are 12 regular verbs from the story and 8 irregular verbs from the story.
Bear-y Good Speech is for your articulation students…they can find words with their sounds from the story and you can send this home for carryover practice!
I also included a craftivity!  YAY!  For this bear, you will cut his mouth out and attach to a box or bag so that students can 'feed' him!  You can feed him any of the card sets in this download or any of your own stimulus cards!
And last, but not least…Spring Party!  Use this open ended game board as a reinforcer with any of the included activities!
You can find this book companion in my TPT Store!
I hope you like it!  I am so excited to use this with my students this spring!