I haven't gotten super excited about adding a children's book to my collection in a bit.  I have my trusty favorites that are like my blankies and I love them.  BUT.  I was able to snag a new book this week, paired it with some awesome SLP blogger activities, and had a FABULOUS week of therapy!  What book?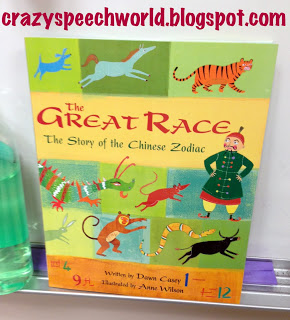 The Great Race:  The Story of the Chinese Zodiac by Dawn Casey is an awesome tale of how the animals were put on the Chinese calendar.  First of all…sat on my board all week.  Every single one of my groups asked about it.  Every.  Single.  One.  This tells me that a story cover is engaging…it peaks their interest…it captures their precious little eyeballs.  Ding, ding, ding!  We got a winner!  THEY LOVED THIS STORY!  All of them.  I read this from my little kinders to my big, cool 5th graders and every single kid was quiet, engaged, and asking/answering questions.  That in and of itself is awesome.  I haven't felt so excited about a book in quite a while…I was able to work it from so many angles to hit so many goals!  As if that wasn't enough…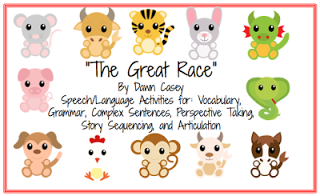 One of my fave bloggers EVER, CC over at If I Only Had Super Powers… created an amazing packet to accompany the book!  She included some amazing activities in here to target vocabulary, grammar, perspective taking, compare/contrast, and artic, but my favorite had to be the story retell and sequencing…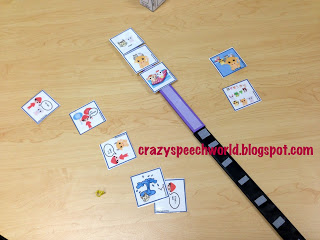 I was able to incorporate my story sticks (we needed both!) to sequence the story and do the retell.  What I love about CC's packet is that she included a story retell rubric.  Rubrics are really big in my district right now and hers was absolutely perfect!  It is one I could even use for other stories too!  Such a valuable resource to me!  We also used her artic words in created some of the Speech Snakes we made.  You can read more about her packet HERE.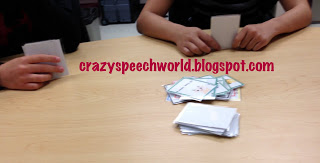 Another activity of hers we played was Zodiac Animal Phrases, which was a freebie!  It targets animal idioms and fit in perfectly for my middle schoolers working on figurative language.  We had a great time discussing what all of the idioms meant!
I learned that my kids are really interested in learning about other cultures.  We all learned together this week, and it filled my heart with joy.  I have one friend who is adopted from China and doing these activities gave him a sense of pride.  He grabbed my hand as we walked back to his class after speech and said, "Today was really special."  I might have teared up.
If you haven't, I hope you will visit CC's blog…she gives good laughs and great therapy ideas!   If you are looking to add a new book to your collection, check out The Great Race by Dawn Casey 🙂
Did you do any fun activities for Lunar New Year?  I would love to hear about them!