This post contains Amazon Affiliate links.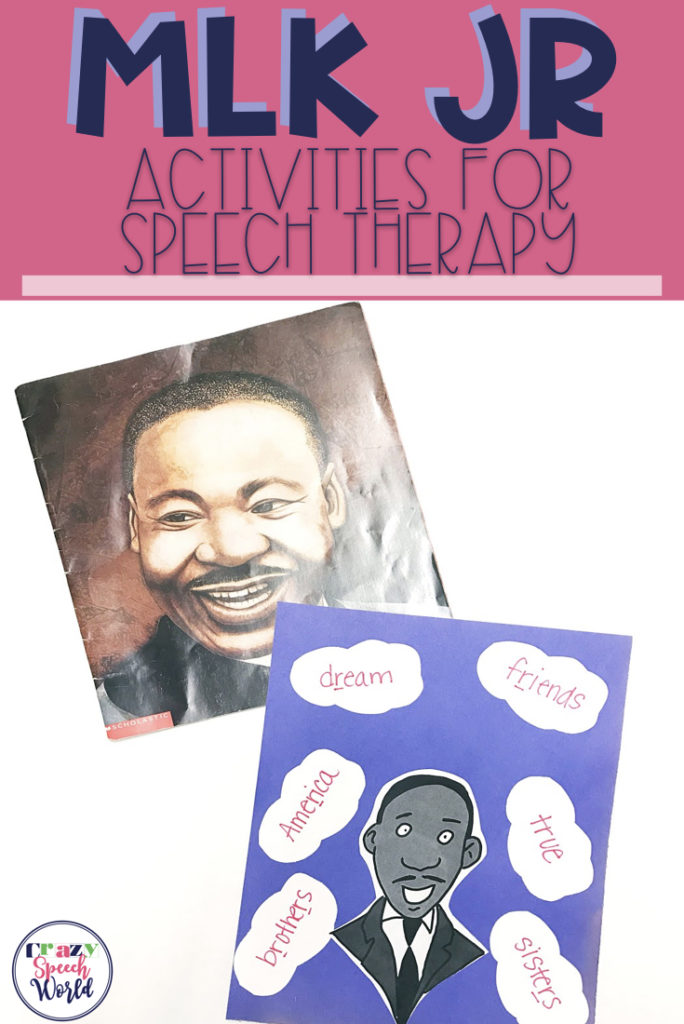 This is a really short week for me…we were off Monday for MLK Jr Day and Tuesday was a planning day, which I took off, so I have only 3 days to pack in some awesome activities to celebrate Martin Luther King Jr!  I have been scouring the web (and by web, I mean Pinterest)  for the past few weeks to find free activities to use for this week and I am excited to share what I found, as well as my own creations.  Up first…my craftivity 🙂
I found really cool and FREE clipart you can download from ATLTeacher and printed out one Martin for everyone.  Then I cut lots of little clouds.  We looked through King's speech and wrote down a list of words with the kids' sounds in them, then they wrote them on the clouds.  They glued it all to a piece of construction paper.  It was great because I could adjust my expectations depending on the grade level and I felt like they all enjoyed it.  It was a great way to tie in curriculum!
One of the language activities I found was listening for details about Martin Luther King Jr.  You can download it for FREE in K. Ratliff's TPT Store.  Make sure you leave feedback if you grab it!  This is perfect for students working on listening comprehension, answering WH questions, and identifying details.
Next up is an activity to work on judging whether specific situations are Just or Unjust!  I used this with a group of students working on pragmatic goals this morning and it was great!  Lots of opportunities were presented to talk about what is fair.  It does print in color, but I chose to just use B&W.  You can find it over at Elementary Matters.  She also has links to some great videos you can include in your sessions.
Speaking of videos, I used a video of a book that Jenna posted over at Speech Room News, called "Martin's Big Words" by Doreen Rappaport.  It is a fantastic book!  Jenna also had a couple of other great videos she found, plus a freebie craft idea.  You can find these HERE.
I also used a little bit from a packet that Tracee Orman created and is offering in her TPT Store.  This targets middle & high school students and has CCS. It has the transcription of the "I Have A Dream" speech and a Reader's Theater script which I used to work on artic & fluency goals with my 6th and 8th graders.  There are also questions included that students can answer.  It is a phenomenal packet for older students.  Make sure to leave feedback if you grab it!
I also found this download with some writing pages and graphic organizers that you can download HERE.  I haven't had a chance to use it yet, but it is super cute and I will probably fit it in somehow!Whew!  Have you been using any of these great freebies?  What else have you used in therapy for MLK Jr?