My name is Jenn and I'm addicted.  I am exploding with ideas and cute, seasonal clip art.  There are not enough hours in the day for me to make everything I want to…but here is my next burst, paired with one of my favorite holiday activities…Gingerbread!!!  My son and I make a gingerbread house every year, it is one of my most cherished traditions.  So I found these adorable gingerbread art and created this packet…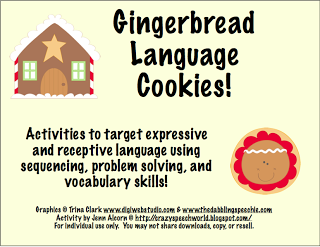 These activities I am so excited about because I feel like they can cover SO many different areas of both comprehension AND expression.  What's my favorite kind of activity?  A multifunctional one!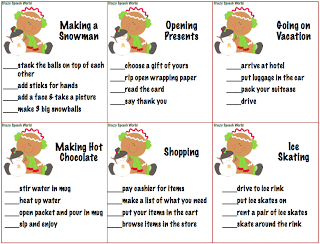 Up first…Step by Step!   15 four-step sequencing cards to target sequencing, retell, and inferencing. The way I like to play this is have each student draw one card and independently put events in order.  Then I have them retell the event using transition vocabulary to tie in narrative skills to the other students in the group.  The other students have to listen and come up with what the event was!  This way, we are targeting a wide variety of skills!  But you could also just have students sequence the event and discuss each step.  It all depends on your caseload's needs 🙂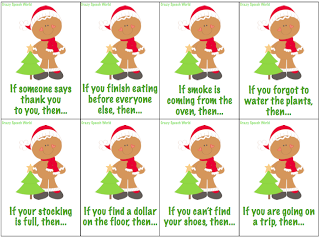 Next is If Then Men!   Each of the 28 cards has an if-then statement on it.  This is great for working on predicting and problem solving skills.  You can have students take turns drawing cards and answering questions independently or for open discussion with your social groups.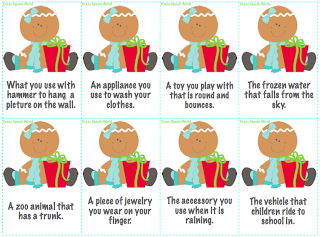 Guess What?  is the next game, with 44 cards to target naming vocabulary through descriptions & context clues. To play, either the SLP reads word clues or have students take turns reading. Whoever guesses the word first wins the card!  The person with the most cards will be the winner.  You could also play with a team approach and have students take turns guessing for their team.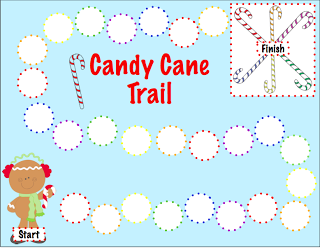 Last is another open ended game board, which you can use to reinforce any of the included card games or with your own targets!  AND the candy cane graphics are from one of our very own…The Dabbling Speechie!    
I hope you find these activities useful for you caseload!  They are available in my TPT Store!