So probably one of my favorite books series EVER is "There Was An Old Lady Who Swallowed…."  I did a post over the summer about how I use There Was An Old Lady Who Swallowed A Shell, but since it is Halloween tomorrow, I thought I would share how I used the Bat version…in case you need any last minute ideas 🙂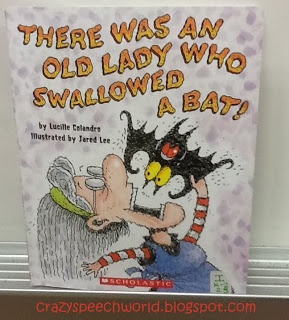 The best part of these books for me are the sequencing aspect.  It is so easy to have the kids sequence the story, then do retell.  There are TONS of rhyming words too so you can work on phonemic awareness skills.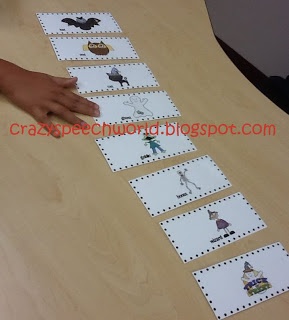 I found these great sequencing cards from Pitner's Potpourri, which you can grab for free HERE.  After we read the story, we put the cards in the correct order together.  The graphics are also super cute, which is always a plus….it also means that we compared and contrasted the story characters on the cards and in the book. 



I also found these pictures on Pinterest and gave each kiddo a set to put in order on a sentence strip.  You can download the pics HERE (and she has other great ideas!).
They were able to work on describing each character while they glued them down in order.
Once they had them down in the correct order, we colored 🙂  Great language activity!  Some of them even asked me to staple the strip together and they wore it out as a crown!  This is perfect for them to take home and work on retell.
Do you have any other ideas for this story?