I knew this week would be a good one and I had been looking forward to it for a couple of weeks!  All of my activities were centered around aliens and rocket ships, which always sparks so much creativity from my friends.  Here are some of the activities we did…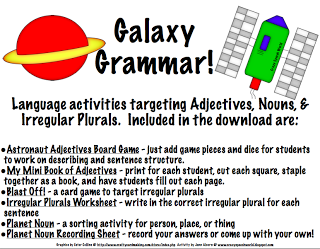 I used the Galaxy Grammar pack that I created over the summer.  This has activities to target nouns, adjectives, and irregular plurals, each with its own carryover activity.




We made the mini adjective books that are included in the download, then I gave each of them an alien to describe (each alien has a different noun on it)  using the adjective book.  This worked like a charm!  I gave them word webs to write down the adjectives they came up with…And they were so excited to have this mini book to take with them!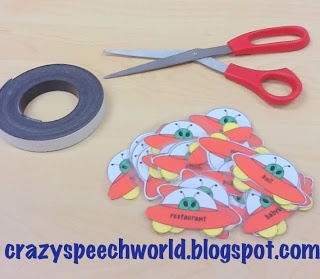 I also added magnet tape to the back of the alien nouns so that we could do a couple of different things…For some of my groups that needed movement, we sorted them by person, place, and thing on the whiteboard.
We also played a guessing game.  All of the aliens were in the container (hello crystal light and duct tape :)) and each player chose one.  They listed adjectives and attributes, then had to tell their partner so that they could guess what the noun was.  This was really fun and we got lots of describing practice!
My books this week were Mooncake by Frank Asch and Space Case by Edward Marshall.  Both of these stories are really great and tie well into the theme.  Space Case would also be a good Halloween book, because it is about an alien who goes trick or treating and can be used across many grade levels.  We had discussions about cause/effect and making predictions, as well as the humor used…wonderful for social language!
I used Mooncake for my kinders and first graders.  This story is super cute…I remember reading it when I was little!  They have to do some inferencing in the story line, which is always a challenge with my language kids!  We discussed basic story grammar and then I found this cute writing page and they wrote/drew about their favorite part.  You can download the writing page freebie HERE.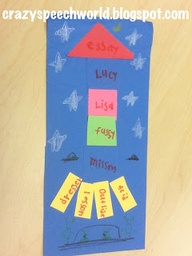 My articulation craft this week was rocket ships!  I had squares, rectangles, and triangles cut out for them and they wrote their speech words on each piece and then built their rocket…once they were finished with that, they decorated!  Lots of little green guys, stars, and spaceships.  It was awesome!  As always, I work with each student drilling while the rest of the group is completing these activities and then they take it home for homework practice.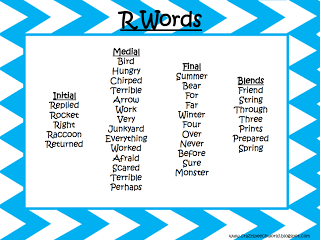 I also created these artic lists based on Mooncake….you can find words from the story targeting /r, s, l, k, g, sh, ch, j/.  You can grab this freebie HERE.
I hope that gives you some ideas about how to use outer space activities in your therapy room!  This is a great alternative if you can't do Halloween activities in your school.
Do you have any other fun ideas for this theme?  Would you use any of these activities in your room?