I'm back with ANOTHER awesome app by Mobile Education Store.  If you are in the market for apps to target pragmatic language skills, I have a winner for you…..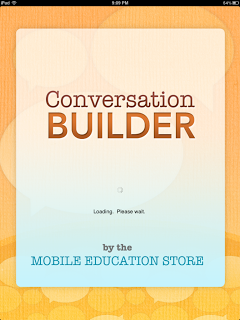 Conversation Builder is for elementary age students to work on basic conversation skills…initiation, commenting, turn taking…with varying levels of support and lots of features!  You can watch the video tutorial by clicking HERE.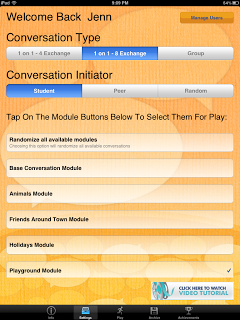 The welcome screen is very similar to the other Mobile Education apps.  You have all of your options on the screen and at the bottom is how you navigate through the app.  For this one, you can have 3 types of conversations:
1 on 1 for 4 exchanges
1 on 1 for 8 exchanges
Group conversations, you choose the players
You can choose who will initiate the conversation, either the student, peer, or random.  This is perfect if you have a student who's working on initiating conversations!  

You also have 7 theme options: 
Basic Conversation
Animals
Friends Around Town
Holidays
Playground
Water
Winter
OR you can choose to randomize all modules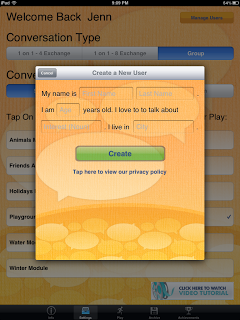 When you add a use, this is the screen that pops up, so you can add their name, age, interests, and where they live.  Once the player is set up and you choose your options, you're ready to go!  For the purposes of this example, I have chosen to do a 1 on 1 conversation for 4 exchanges with the peer initiating.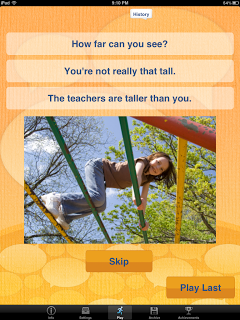 First, the app plays the a statement by the girl in the picture, then prompts me to respond by giving 3 options.  The app does not read the choices, so for non-readers, you have to read it to them.  If you choose the incorrect answer, the app prompts the student that was not the correct response and gives a cue about what to say next so that they can try again.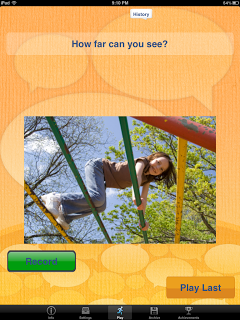 If correct, you are prompted to record your response.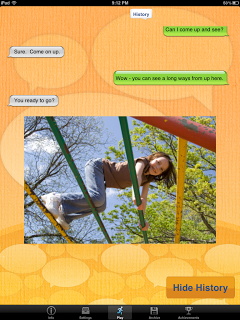 Once the conversation is complete, you can replay the entire conversation and you can also read it by pressing the History button at the top of the page.  You can look at this during any point during play.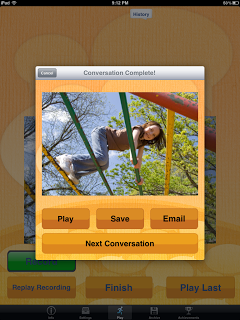 You can also choose to save the conversation, email it, or move on to the next one.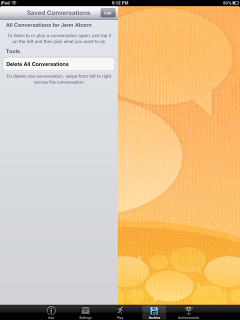 If saved, all conversations will be in the student's archive.  This is awesome for monitoring progress!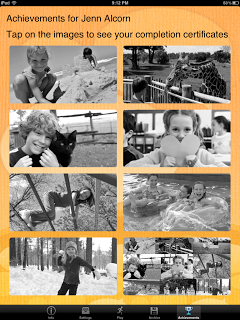 Students also can keep track of their progress by clicking on Achievements at the bottom of the screen. They earn certificates for each conversation topic they complete!
I have been able to use this app with first, second, fourth, and fifth graders and have had nothing but positive comments from each of them about it!  I am so excited to have this in my therapy toolkit!  There are so many options and you can target a wide variety of social language skills with this one app.
It is available on the iPad for $19.99 AND on iPhone for $7.99 in the iTunes App Store…BUT, of course I want to be able to give you a copy of the iPad version!!  Enter to win via Rafflecopter below!  Good luck!