About two years ago I got a PK referral for a speech evaluation, which I get on a regular basis and didn't think much about it.  When I called to schedule the evaluation with the parents, I found out that this was anything but a typical speech evaluation.  "My son has apraxia, what do you know about treating that?"  was the question that greeted me on the other end.  To be quite honest, at that point in my career, I had ZERO experience kids with apraxia.  Zero.  Zilch.  Nada.  I fumbled through a response to a very nervous mother…as I typed childhood apraxia of speech into ASHA's website search box.  I needed information and I needed it quick.  I spent the next few days immersed in all things apraxia.  I had a great resource in a private practice SLP who helped me a lot with her experience, I read quite a bit, and ended up learning so much from an amazing little boy who made me a better SLP.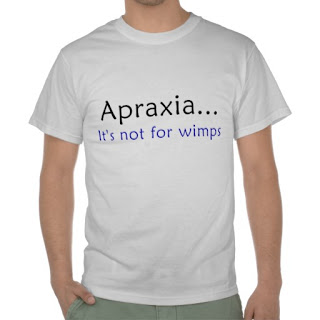 Isn't this awesome?!  Available HERE
After reflecting on this, I had this scary thought…I have the background to understand the literature,  the jargon…can you imagine being a parent given this diagnosis for their precious child?  Apraxia isn't a very common disorder and navigating it as a parent must be overwhelming, as caregiver-speciic resources have been limitedt.  Recently I was contacted by Leslie Lindsay and I was pretty excited to hear that she had a book for parents on this very subject!  She authored Speaking of Apraxia: A Parents' Guide to Childhood Apraxia of Speech after her experience of being the mother of a child with apraxia.  In my opinion, this is the book every parent of a child with this diagnosis should read and every SLP should have it on the shelf as a resource.


The book covers all facets of dealing with CAS.  From the very beginning – recognizing what might be apraxia to dealing with a child's feelings about their disorder to ways to work on speech skills at home.  All in a very easy to read format with no jargon!  Leslie relates to her readers with her own experiences weaved throughout each of the chapters and provides TONS of resources.  Here is sneak peak at what is on the inside:
Section 1: Tell Me More – The Straight Scoop on Speech Basics

Diagnosis information, intro to speech and language, professionals to contact, and your first treatment session with an SLP

Section 2:  Now What?!

Personal reactions, medical diagnoses and theories related to CAS, speech therapy methods

Section 3: Helping Your Child

Complementary and Alternative Medical Approaches to CAS, and working on speech and language skills at home

Section 4:  Off to School

How to help your get ready for school, how CAS may affect academics, and how to help teachers understand your child 

Section 5:  Coping & Hoping

Family dynamics and coping, helping your child cope with their own feelings about the disorder, next steps, and getting involved in advocacy

Appendices

Guides to common coexisting conditions
Health Insurance
Summer and enrichment programs 
Speech & Language Milestones
Research related to reading and SL disorders
Glossary
As you can see, there is a wealth of information included in this book!  I truly enjoyed reading it and I think any SLP would.  We can always appreciate a parent's perspective…  we are often not just SLPs, but counselors also, and I think that having this helps me to better understand being a parent of a child with CAS.

Alright fellow speechies…just how comfortable are YOU in treating CAS?  Do you think you would pull this book out to share with parents?  What other great resources do you know about?