It's starting…the time when I start missing the artic cards and Candyland and planning therapy.  Summer is coming to an end.  I am down to one week left, which is exciting and a little sad all at the same time.  I love being home all summer with my son…no schedules to keep, no alarms, and I can have my coffee on the couch while listening to Pandora and cruising Pinterest.  But…I also love a new school year and seeing my students and getting back to "pathologizing" 🙂
So as I start planning, I have been thinking about what new activities I can do for the first week of therapy.  I really don't like doing the same things year after year.  Maybe the kids wouldn't care…but it's boring for me and I don't do boring.  The first couple of weeks of therapy are always about getting things together…baselines, folders, procedures, and getting to know you games/activities.  I have done a previous post on my student folders (if you missed it, check it out HERE).  I will have the kids fill out this folder page…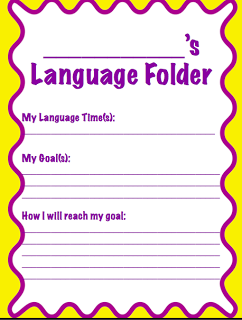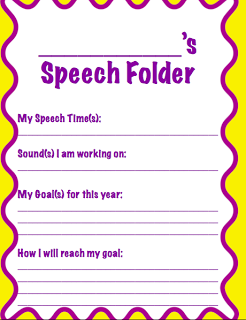 When they do these, we talk about each of the answers together.  I usually do this one in our first session, and we also talk about procedures and rules.  Then I spend the next session doing baselines and completing the activities to get to know my students better.  Because I have been at the same school for so long, many of the students are familiar with me and I with them…but I love watching them grow and change!  I think it is so important for us to build strong relationships with our students and those first activities you do to learn about them are vital.  I never assume a child has the same interests as they did the year before!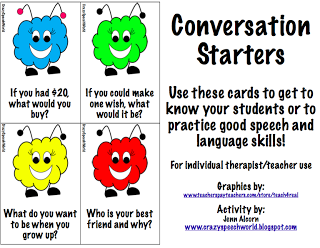 I also created these conversation starter cards!  There are 36 cards, which you can use for the back to school getting to know you or for working at the conversation level on speech and language skills.  You can download this freebie in my TPT Store!
Other activities I have been pondering were inspired by things I have pinned on Pinterest…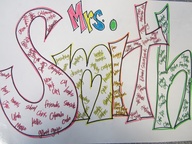 This one is based on nouns, verbs, and adjectives.  Each letter is a different part of speech about themselves.  This would be fun to do with language groups who have grammar goals!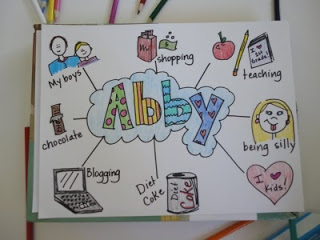 I just think this is cute!  Name webs with pictures of interests or hobbies, and you could have them do one line with what their speech goals are.  I was also thinking you could do a collage…the kids look through newspaper ads and cut out things they like.  Those ads are good for so many things!

What other activities have you planned for your students?