I don't normally talk trash.  Welllll, except during football season 😉  And I never teach my students to until now…  But it's not what you think, I promise!  I found this activity, Trash or Treasure? on Pinterest last week and I knew I could make this speech related, so I did!  Introducing…Trash Talk!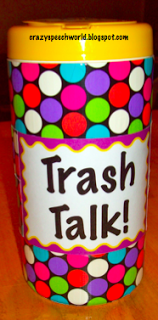 What is Trash Talk you ask?  Well very similar to the Trash or Treasure game but adapted to target articulation of /r, s, l/ words.  I took special interest to find Dolch words with these sounds in each position, as well as blends!  I am excited to be able to work on artic AND sight word recognition.  How can you start your own Trash Talk? Keep on reading!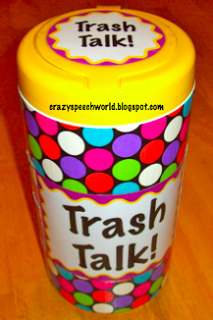 First things first, you will need a "trash can".  I used an empty lysol wipes container, but anything with a top will work.  Then I put the labels on (I included them in the download) and fashioned it with some more of my awesome polka dot duct tape…I seriously love this stuff, can't get enough, and vow to cover anything I can with it!  You could also use decorative paper or even plain paper to cover yours.  Get creative!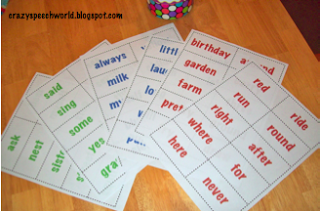 Next step is to get the words ready.  Like I said above, I used Dolch words targeting /s, r, l/ in all positions.  There are 20 words for each sound.  I color coded them, but you could make it tricky and print them all in black.  Then you cut them all out!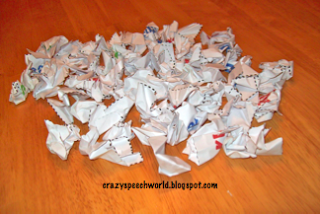 Here is the fun part…or at least a certain curly headed boy in my house thought it was.  Paper wadding time!  Crumble up each word into a a little paper ball.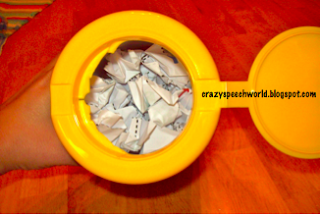 Throw them all in your container, and voila!  Trash can full of trash!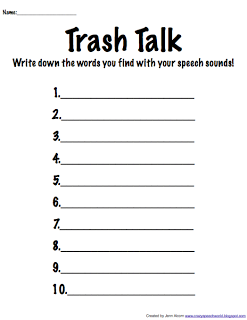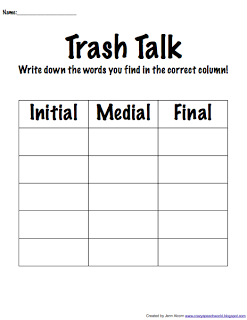 I included two different recording sheets, because I can see this activity going a couple of different ways.  You can have students take turns drawing words, reading them, and if they get their sound, they record it.  You could race to see who can fill up their paper first, or just use it as an independent activity to be completed as you work with each student in the group.  The kids can sort by initial, medial, and final, or just make one big list…it's totally up to you!  Best part:  they can take it home for extra practice!  Woohoo for speech homework!

You can download this freebie in my TPT Store!  I hope you like it!  Please leave me a comment if you download and let me know how you will use it in your therapy room 🙂