I've been busy working on my calendar for the upcoming school year and trying to to do a lot of planning.  At some point I decided that outer space would be a good theme…then I found really cute clip art… then planning ceased as I submerged myself in a very cute language activity pack 🙂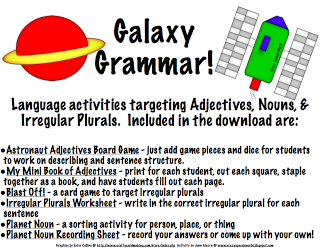 I just finished it a couple of days ago and am so excited to share!  I have never done an outer space theme before and I'm not sure why…  But I created a few activities focused on parts of speech.
First, we have adjectives…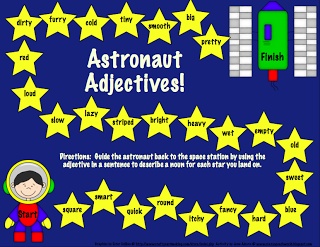 You know me and my love of super easy board games!  This one has one adjective on each star.  As the student rolls the dice, they must put the word in a sentence to describe a noun.  You can easily target describing and nouns, as well as sentence structure.


Next is a card game to work on irregular plural nouns.  For this I included nouns that change form completely and some that don't, such as sheep and moose.  You can use the cards for drill just to work on identifying the correct plural form, or you can play Go Fish or Memory to work on generalizing the skill.  Each student will be looking or asking for the other form of the word they have.  For Go Fish, if they have child, then they would ask "Do you have children?".  This way you are working on not only the plural forms, but also question formation.  To play Memory, each child takes a turn flipping over two cards, looking for a match.  When they find a match, they can use each word in a sentence.  Again, you can target sentence structure.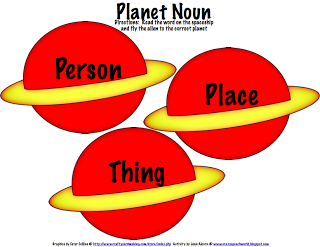 Planet Noun is the last activity I made for sorting various nouns by person, place, or thing.  This is good for working on categories also!  Included are 24 spaceships with nouns…8 for each planet.  Students just fly the spaceship to the correct planet.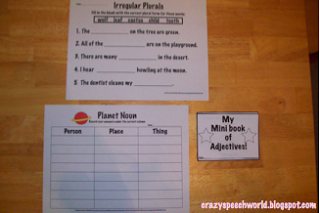 Also included in the packet are 3 follow up assignments for each activity!  For adjectives, there is a mini book for the students to list examples of adjectives for color, size, shape, taste, touch, and amount.  For irregular plurals, a fill in the blank worksheet.  And last, a chart to fill in nouns by person, place, and thing.  All of these activities are meant to reinforce the skills targeted.  You could do these as a end of session wrap up, as a follow up in a different session, or send them home for practice!  

The Galaxy Grammar language pack is available in my TPT Store!  

Have you ever used an outer space theme in therapy?  What activities have you done?