I realized that I have gone material mad lately!  I love having all of this time to be able to create and cut and paste!  Letting my creative juices flow is one of my favorite things to do and summer is the best time to do it, in preparation for the upcoming year.  What you may not know is, I do a lot literacy based instruction for therapy.  I usually have a book or two that I use to match my theme of the week.  Obviously, different books works for different goals.  But one that I always love teaching with is The Napping House by Audrey Wood and illustrated by Don Wood.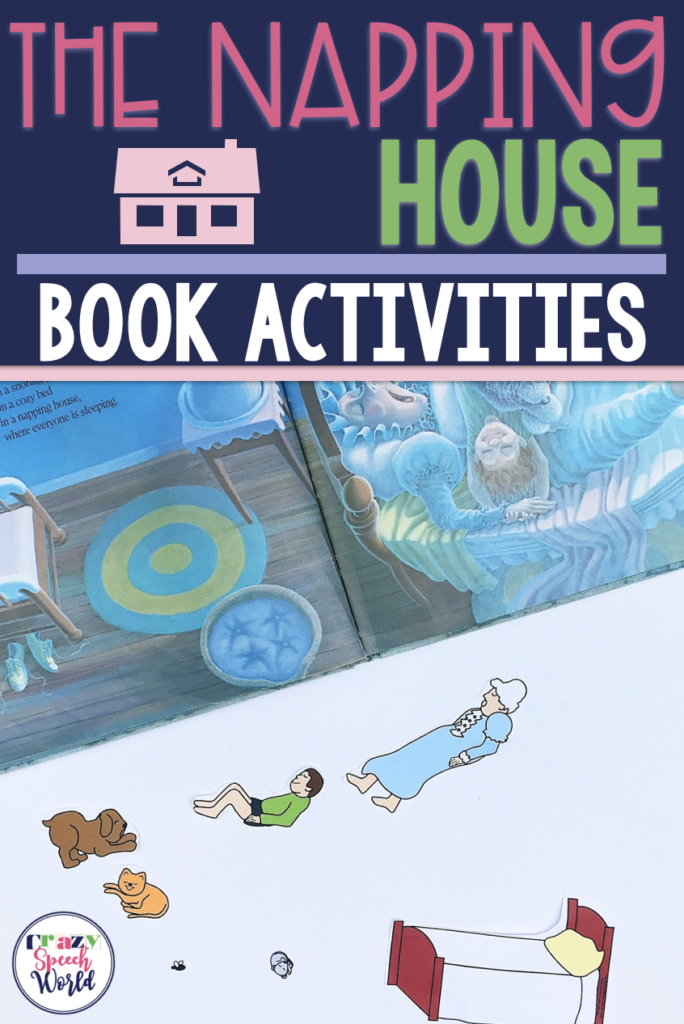 I like this book because I can target SO many objectives….narrative, listening comprehension, wh questions, size and positional concepts, superlatives and comparatives, adjectives, and synonyms.   It also uses great repetitive language and the kids think it's hysterical.  It has wonderful illustrations and they love playing find the flea!  He is always in a different spot!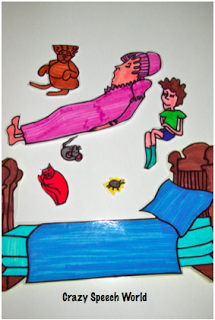 This activity is one that I have used over and over.  First thing you need are printables for all of the characters…I do not remember where I got mine, but I found some more over at Making Learning Fun.  Print, color, cut, and laminate all of the pieces…then add some velcro or magnets to the back.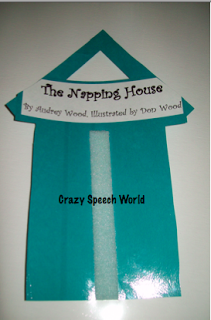 Then, I took a piece of my ever handy construction paper and made a house, with the title, author and illustrator at the top.  After I laminated it, I added a strip of velcro down the middle.  You could also leave it as a placemat OR add magnets for a barrier game/whiteboard activity.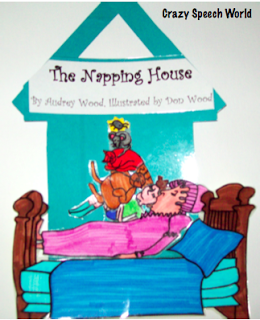 Then…have fun!  Students can work on narrative and comprehension skills by retelling the story and putting the pieces in order.  The pieces also happen to be size order, so you can talk about biggest and smallest.  I have taken the pieces off and worked on position concepts and following directions (ex. Put the bed next to the granny, put the boy between the mouse and cat, etc.)  I sometimes give students their own copies of the printables and they make their own little book or glue their characters in order to take home for carryover.
Do you ever use The Napping House in therapy?  What other ideas do you have for teaching targets?  Let me know what you think 🙂