This post contains Amazon Affiliate links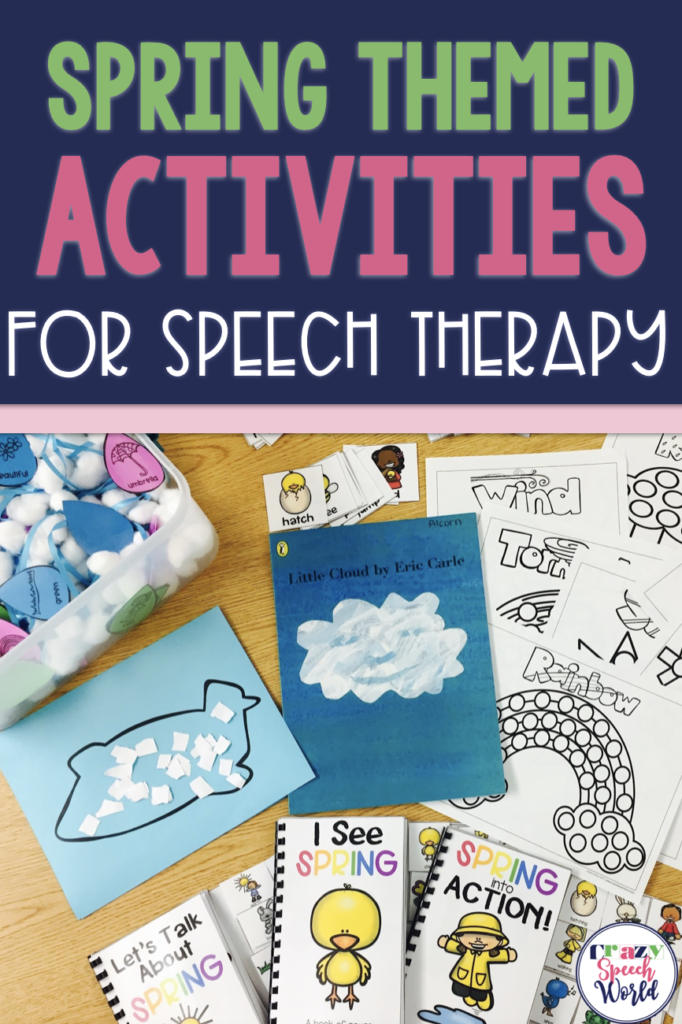 There are few things I love more than the spring….that might be only true during the spring, but I sure do love it.  Probably because I know that I won't have to deal with cold temperatures anymore!  I started a new theme in speech last week that I hadn't covered before…weather!  This was a great theme for spring, since we see so many changes in the weather during this time of year.  I don't know about where you are, but here in Florida, one day it's freezing and the next is 75 degrees and beautiful.  Mother Nature must need her coffee!
I'm sharing all of the things that we have been doing…this was going so good, it has spilled over into this week too.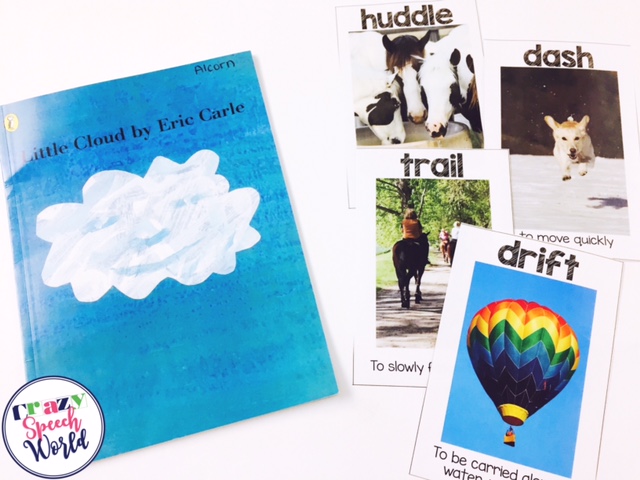 When I start planning a new theme, the first thing I do is look for a book!  Little Cloud by Eric Carle is perfect reading for my little friends…and I happen to already love all of his books, so it was a match made in heaven.  I'm also working on a new project for vocabulary with all of my millions of children's books, so I created these vocabulary cards for this one too.  There are 4 Tier 2 words, with photos and a simple definition.  If you want to grab them, you can HERE.  We can call it a sneak peek 🙂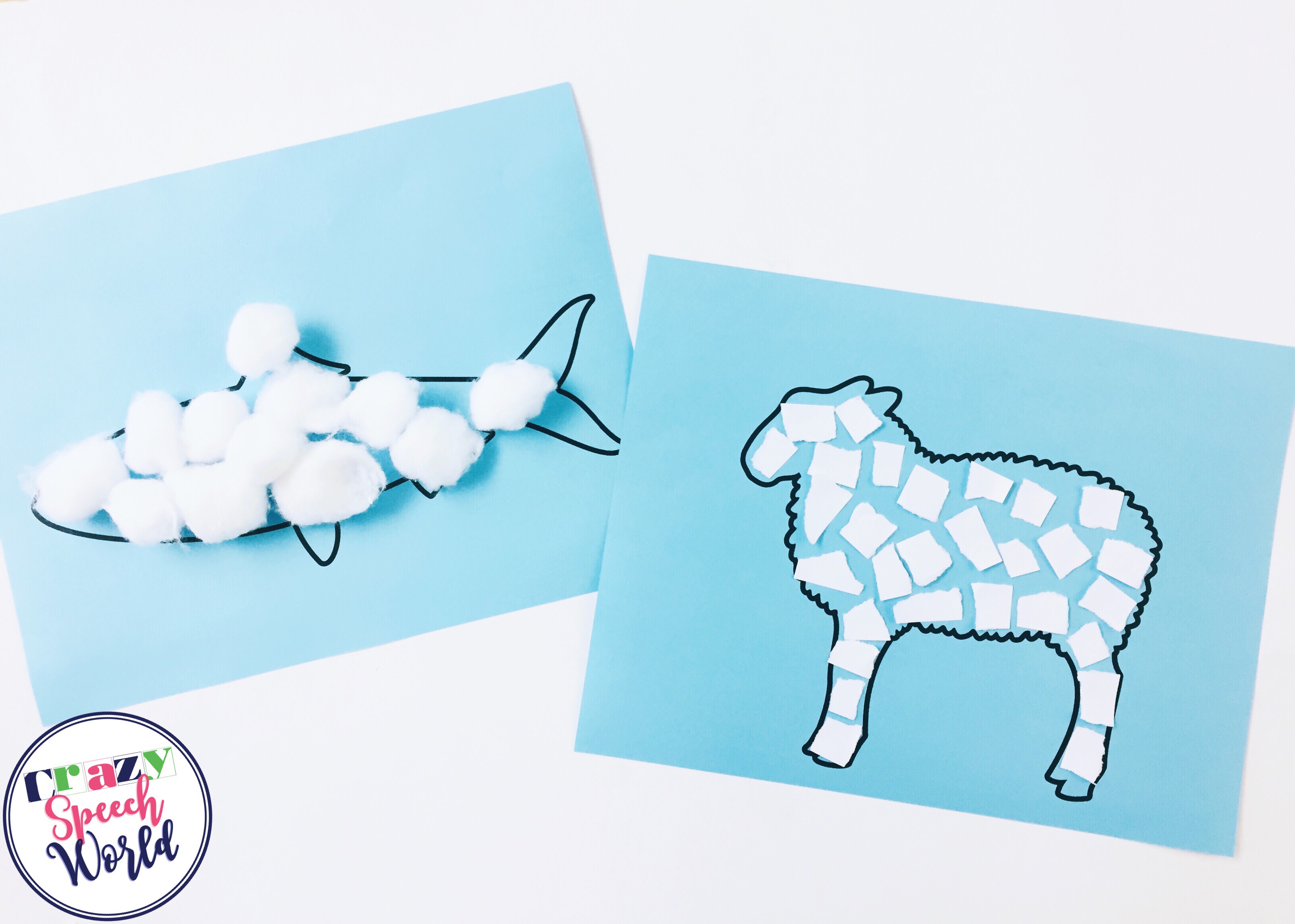 I created these cloud templates, which are the same as the shapes in the book.  You can use cotton, torn up paper, tissue paper, or even paint to fill in the shapes and make your own clouds.  And guess what?  That's a new freebie in my TPT shop!  Find it HERE!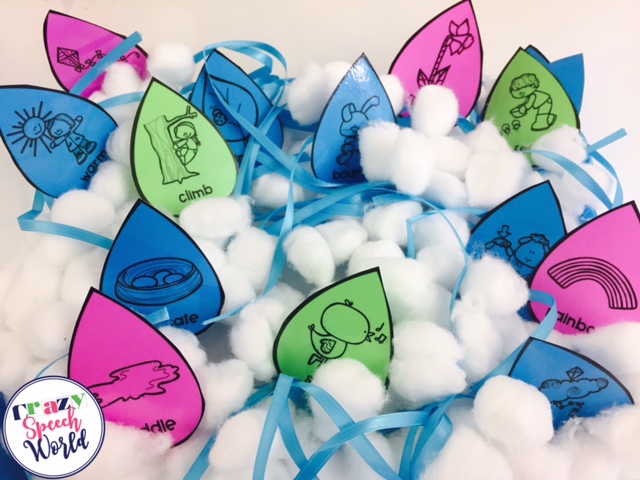 I also got this sensory bin going, which has various nouns, verbs, and adjectives on raindrops.  I used cotton balls and blue string to fill up the bin.  My kids loved it!  We got lots and lots of language going with this one!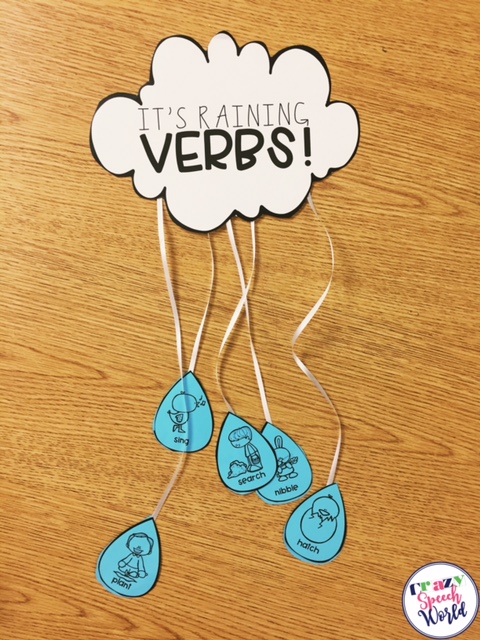 We also had this craft!  Same raindrops as the sensory bin, so it led to some great continued learning over more than one session.
You can find both of these activities in my Spring Interactive Language download.
We also used the weather game board and dot pages from my March Theme Therapy Toolkit.
I hope that gives you some new ideas for therapy for this season 🙂  So many good things about spring, and new therapy ideas are the BEST!  Drop me a line and tell me what you think…
xoxo,