This post contains iTunes & Amazon Affiliate links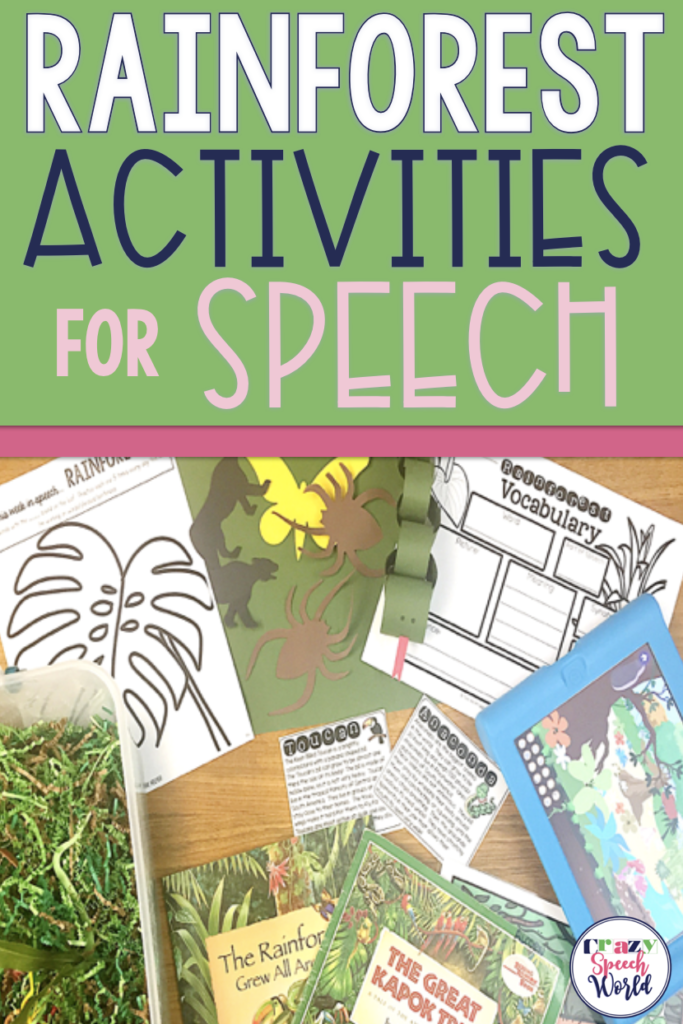 I think that when I plan next year, I will do the rainforest for all the days.  It is seriously the best.  BEST I tell ya!  I'm so excited to share some of the activities that I've been doing in my room for the past two weeks…so settle in with a beverage and a cozy seat cause this is gonna be a long one!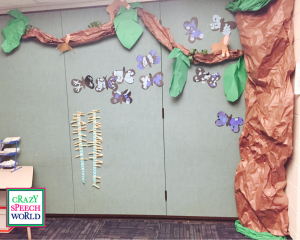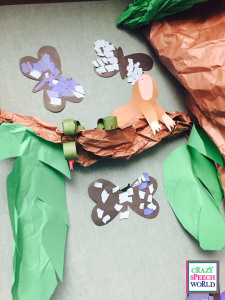 One of the first things I did was make this big tree in a corner of my room…I just took some of the brown and green bulletin board paper and crumbled it up until it resembled a tree.  This by itself got some attention, the students thought it was SO cool!  And as we created new things, we added to it, so you can see their butterflies, sloths, and snakes that we made.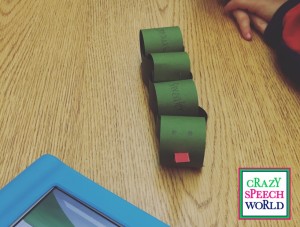 The first craft I introduced was this snake, which is a super easy craft that the kids always love.  I actually have done this craft a few years ago, so I knew it would be great to do again.  Just cut strips of paper and staple!  I also wrote their speech words on each strip….it was perfect for /s/ blend practice!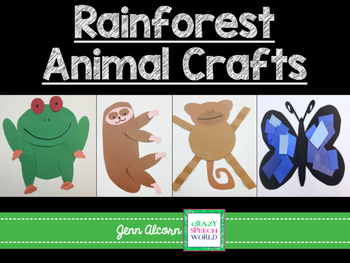 The other crafts we did are included in this set…the blue morpho butterfly was probably our favorite!  For articulation groups, I was able to give my kids the picture instructions (included in the download) and they could complete these independently while I worked with each student.  A dream!  For my language friends, we incorporated the crafts into what we were learning about each animal and work on following directions.  They were so proud of the final products that I had a hard time convincing some of them to let their animals hangout in our classroom tree 🙂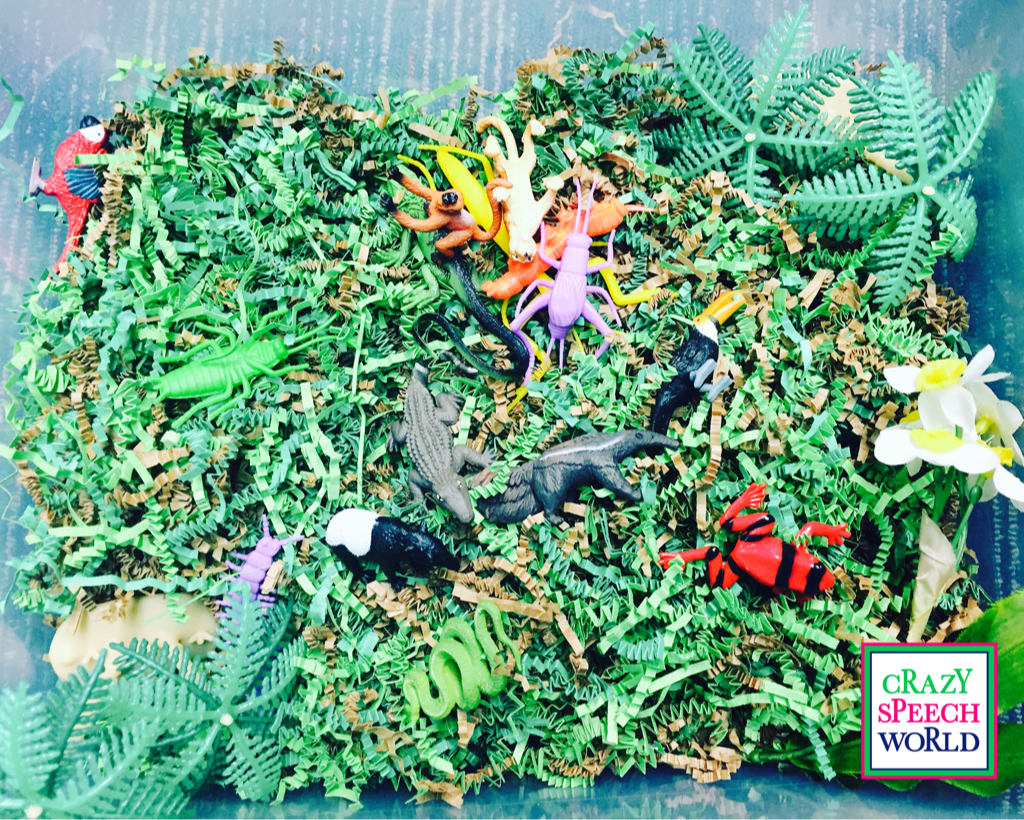 Speaking of fun activities, this sensory bin was a huge hit with my little guys!  All I did was grab a plastic bin and fill it with green and brown grass (from the dollar store), then add some bugs (dollar store), plastic trees  (from my farm set I got at Walmart), artificial flowers (from a parent), and these rainforest animals I found on Amazon.  This was a great language activity and reinforcer for articulation practice!  They all wanted to get their hands in there 🙂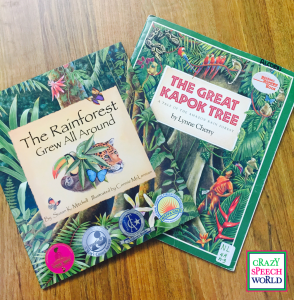 The books I used were these two and I cannot say enough how much I love them both!  The Rainforest Grew All Around is like the infamous "The Green Grass Grew All Around", and it was so much fun!  The Great Kapok Tree is a classic that ties in really nicely with Earth Day and themes of saving the rainforest, all while exploring the different animals living there.  Another great one that I ordered and ended up not using as much as I thought was The Umbrella by Jan Brett.  It has the familiar plot of The Mitten, but set in the rainforest.  It also has lots of Spanish, so if you work with any Spanish speaking bilingual students, this would be a great book for them!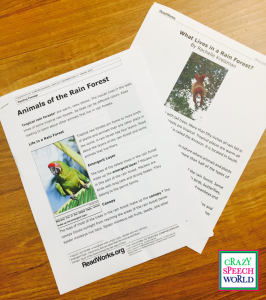 I also found two great articles on the Rainforest from ReadWorks.org…if you aren't familiar with this resource, you need to check it out!  TONS of resources!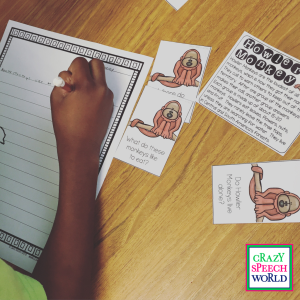 Speaking of nonfiction, we learned SO much using my new Rainforest Non-fiction Language Unit!  I got so much mileage out these by working on comprehension, answering questions, writing sentences, vocabulary, etc.  In this picture, you see one of my 4th graders working on answering WH questions in a complete sentence.  (The writing page is from my Rainforest No Prep packet).  I couldn't believe how engaged they were with these animal activities!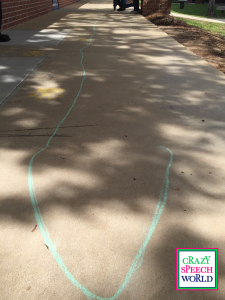 We even headed outside after reading about the Anaconda to measure how long it would be and drew one on the sidewalk!  It happened to tie in great with the measurement they have been working on in math 🙂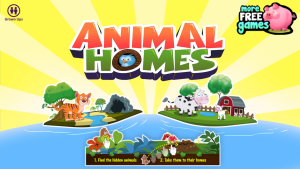 I used an app this week that was also great for working on language skills called Animal Homes.  It actually includes rainforest AND farm, so I know I will get some good use out of it!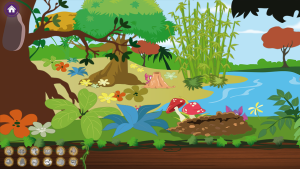 The animals are hiding and you have to find them all, then put them in their correct homes.  I was able to target WH questions, vocabulary, basic concepts and following directions with this app and the kids really had fun with it!  It's available on iPad and iPhone from the iTunes Store for $0.99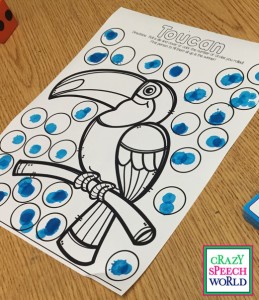 Of course I filled in the gaps with some other fun activities, like dot pages and game boards, from my Rainforest No Prep packet, which also was great homework this week!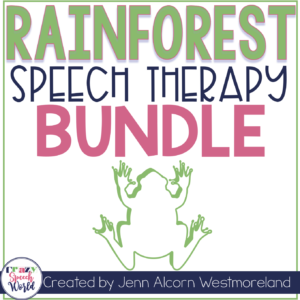 If your looking at doing this theme with your students, I've bundled up all of my activities for you so you have everything you need AND you save a little bit!  You can find this in my TPT store!
It really has been a great couple of weeks in therapy, it got my kids motivated, which we all know can be so difficult in April!  Share your thoughts with me in the comments!
xoxo,