I have a confession…I own very few artic apps.  I could never make up my mind which to buy.  Typical.  Recently Smarty Ears asked if I was interested in reviewing Articulate It! since it just had a big update…and I was so excited!  This fills a need that I do not have on my iPad currently.  I have been using it for a while now and am ready to tell you what I think!  First…a tour…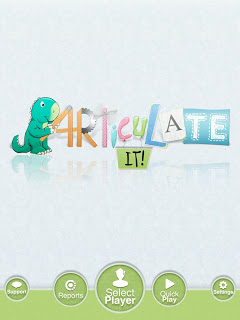 From the main screen, you will have 5 buttons to choose from:
Support, which includes Barbara's video tutorial.
Reports, where you access your students' data.
Select Player, where you will choose a player and track performance data.
Quick Play, when you just need to stim items but not data saved.
Settings, where you can choose basic options in how the app operates, like transitions sounds and display settings.  You also have the option of changing these settings from within the app.
If you choose Select Player, you will be taken to the screen where all your available students are.  You can add them here, or import from Therapy Report Center (which is SO convenient!).  You can select up to 6 players to use the app at the same time.  I can't show you a screen shot, cause all of my students' names are in there 🙁  But it is similar to other Smarty Ears' apps.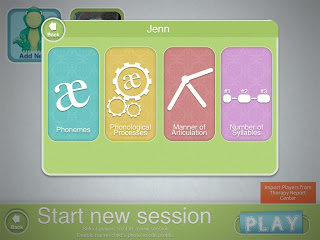 Once you select your student OR choose the Quick Play option, you then choose what to target:  Phonemes, Phonological Processes, Manner of Articulation, or Number of Syllables.  Can we just stop here and talk about how much I love this?  Cause I do.  I have used each of these options, and find it so helpful that I can in ONE app.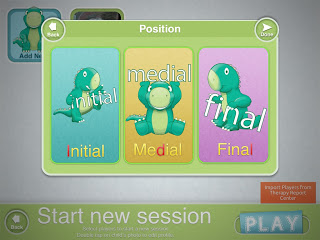 Next you choose position.  You can just one or all three, which is fantastic.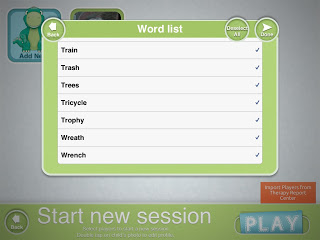 Then you approve the word list, so if there are certain words you don't want to practice or only certain ones you need (like a specific blend maybe), you can deselect the words you don't want to use.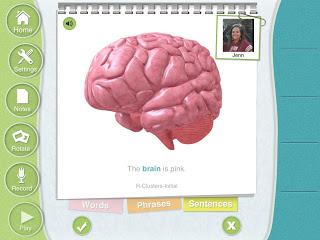 Now your options are set and off you go to pictures!  The picture of the student who is playing will be displayed in the upper right hand corner.  Across the bottom of the picture you have the tabs for word, phrases, or sentences, which you can tap through as needed.  You also will mark accuracy via the checkmark and 'x' buttons.  You can also choose to display the students accuracy at the bottom.  There is also a button at the top left corner of the picture to have the stimulus read.  The left hand side has all your options, which include taking notes, recording & listening to student production, and changing the settings.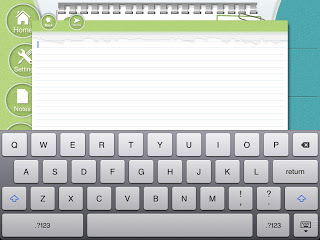 The taking notes feature is nice if you have something specific the student is doing in error or find a cue that works that you want to remember for future reference…but to be honest, I don't really use it.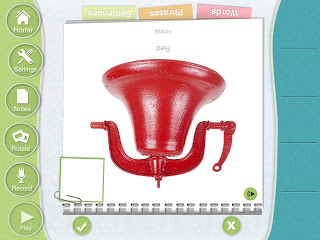 However, the rotate feature is one of my favorite things ever!  I wish more apps had this because most often, students are sitting across from me instead of next to me and it just simply makes life easier 🙂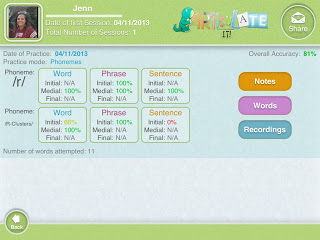 Once you are finished, you can access student performance data, broken down by target.  I really like how detailed the data collection is for this app.  You can access any notes, words practiced, and recordings here as well.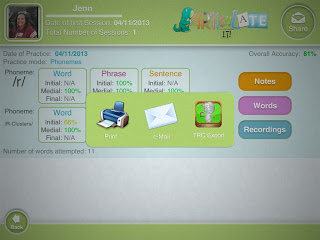 You can also export data saved to email or TRC, as well as print (if you have capability).  

It is true…I have nothing of it's kind at all to compare it to…but I really like this app.  It is everything I need for articulation therapy, great for data collection, uses real photos, and has awesome options that make it very valuable for any SLP.  It is available on iPad, iPhone, AND iPod Touch.  I use it almost every single day…I absolutely recommend it if you are in the market for a quality app to address articulation/phonology goals.  It is currently in iTunes for $38.99.

 I was provided one copy of this app to review, no other compensation was provided.  Opinions are all mine.